"In the Vanguard: Haystack Mountain School of Crafts, 1950-1969" on view at Portland Museum of Art
---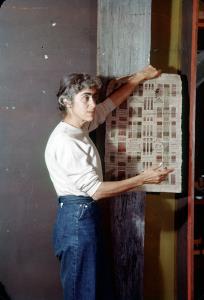 DEER ISLE—Haystack Mountain School of Crafts is thrilled to announce that the Portland Museum of Art has opened the exhibition, "In the Vanguard: Haystack Mountain School of Crafts, 1950-1969." Organized by co-curators Rachael Arauz and Diana Greenwold, the exhibition features more than 90 works of art, including textiles, ceramics, glass, metalwork, paintings, and prints, as well as newly discovered correspondence, photographs, brochures, posters, and magazine articles from the Haystack archive. The exhibition, which, opened May 24 and, according to the Museum, "explores how an experimental school in rural Maine transformed art, craft, and design in the 20th century and helped define the aesthetics of the nation's counterculture," will remain on view until September 8, 2019. A full color catalog accompanies the exhibition.
"We are grateful to the Portland Museum of Art for their commitment to this project over the past four years," said Haystack director, Paul Sacaridiz. He added, "This is truly a landmark moment for Haystack, as the history of the school and its contributions to the larger field of American Art and Culture are presented through this exhibition. It has been a pleasure to watch this exhibition take shape and we believe it will make significant contributions to the history and scholarship of the Studio Craft Movement. As co-curators, Diana Greenwold and Rachel Arauz have been steadfast in their belief of the importance and necessity of telling this story through a broad lens. They have helped to make connections that might have otherwise been overlooked, and their excitement, curiosity, and dedication has been nothing short of inspiring." He added, "This is a wonderful moment to celebrate the impact and reach of Haystack and to share that with people, both here in Maine, and beyond."
About Haystack Mountain School of Crafts
Haystack Mountain School of Crafts is an international, non-profit, studio and research program offering workshops to craft-makers and visual artists of all skill levels, led by prominent faculty artists. Haystack also offers an artist-in-residence program, annual conference, visiting artist series, studio workshops for Maine residents, and programs for Maine high school students. Visit haystack-mtn.org for further information.