Call for Participants - The Jack Pine Project
---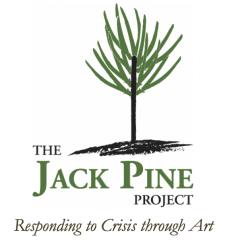 CALL FOR PARTICIPANTS
The current pandemic and shutdown has affected many aspects of our lives. Many groups have been directly affected, including health care workers, teachers, hospitality workers, and others. Parents are coping with childcare and home schooling on top of employment changes or lost income. And for vulnerable groups from the homeless to the elderly to the incarcerated, as well as those with chronic health conditions or who have contracted the coronavirus, the need to recover is real.
The creative arts offer a way to help by allowing people to express their feelings and tell their stories in multiple ways. Projects like Songwriting With Soldiers and the Minnesota Prison Writing Workshop connect people in difficult, life-altering circumstances with professional teachers who help them express their feelings and ideas through the arts. The stories and songs created are powerful and authentic, and the effects on students and their teachers are remarkable and transformative.
The Jack Pine Project responds to the current crisis by connecting inspirational teachers in the arts with cohorts of students from around Maine. Through a series of workshops, Maine artists, musicians, writers and others will work with various groups to help them express their thoughts, feelings, concerns, and hopes for the future. The project is coordinated by the Maine Folklife Center at the University of Maine, with support from the university's Hutchinson Center in Belfast.
The title of the project is drawn from the Jack pine, a species native to Maine that thrives in areas burnt by wildfire, needing the heat of fire to release its seeds. The image of a pine seedling emerging from burnt ground is emblematic of Maine's reemergence from the COVID-19 pandemic, and the role of the arts in this process.
Call for Participants
We are seeking cohorts of students who would like to work with an instructor in a particular medium. Ideally, each cohort would consist of people in a similar occupation, circumstance, or location, all affected by the pandemic in some way. Individuals in a workshop can come from across the State of Maine, or be connected through a common workplace. These are non-credit workshops, and there is no cost to participants.
Students should be able to participate fully, meeting via Zoom or other technology with the instructor and fellow students for the duration of the workshop. They should also have adequate time to implement what they are learning, and to complete a final project of some sort. Students must also be willing to be recorded, with recordings made available to the public as part of the project (some activities may be exempt from this due to confidentiality or sensitivity of subjects).
At this time, some of the groups we are most interested in hearing from include:
• Workers in the health care industry, including home health care as well as institutions.
• First responders, especially those who deal with risk of infection from COVID-19.
• Vulnerable populations such as the elderly and those with chronic health problems.
• Eldercare workers and others who wish to coordinate workshops with residents.
• Teachers and others who are learning new approaches to education.
• Workers in hospitality and food service industries who may be recently unemployed.
• Those who work with the homeless and other marginalized groups.
• Recovering COVID-19 patients, their families, or family members of victims.
If you have an interest in organizing a group, please contact us using the information below. Whether you have a group already formed, or just an idea for one, we would be happy to discuss possibilities with you.
Call for Instructors
We are seeking short-term instructors to lead our workshops. Instructors should be experienced in their art form, and able to instruct and mentor 10-15 students in an online format, most likely using Zoom. The ideal instructor would understand the process of creation within their medium, and be able to help a wide range of students to express their feelings and concerns through this medium. An understanding of the therapeutic value of the arts would be helpful, although this can be based on experience and intuition as much as formal training.
The exact structure of individual workshops will be determined by project organizers in collaboration with instructors. They would typically involve several online meetings, taking students from initial ideas to a final project. As projects will eventually be shared with the public, they should meet student and instructor standards.
We would consider many possible subjects for workshops. These could include:
• Poetry, creative nonfiction, or short story writing. • Acting, dance and other performance arts.
• Songwriting, storytelling and spoken word. • Playwriting or screenwriting.
• Life history interviewing and autobiography. • Painting, drawing and other visual arts.
Courses should be recorded, and instructors and students will need to sign release forms that permit the University of Maine to use select portions of videos. Instructors should be comfortable on camera and with their own voice, and be able to help students become comfortable with this process as well.
Instructors will be contracted through the Division of Lifelong Learning at the University of Maine. Payment for a workshop would be between $500 and $1,000, depending on the number of sessions, number of students and other factors. Normal state and federal withholdings would apply. Payment of instructors must still go through a formal approval process, which could be delayed because of current University of Maine hiring policies affected by COVID-19.
If you are a potential instructor with artistic skills and teaching experience, and have an idea for a workshop or a group you would like to work with, please contact us. We would be happy to discuss your ideas.
Contact Information
The Jack Pine Project is coordinated by Kreg Ettenger, Director of the Maine Folklife Center. You can reach him by email at folklife@maine.edu, or by phone at 207-581-1840. You can also learn more by contacting the UMaine Hutchinson Center in Belfast, by phone at 207-338-8000 or by email at hutchinsoncenter@maine.edu.
Filter Press Releases
Contact Information
Kreg Ettenger
UMaine Hutchinson Center
80 Belmont Ave
Belfast
ME
04915
207-581-1840
ude.eniam@efilklof