Help kick off International Maritime Film Festival
---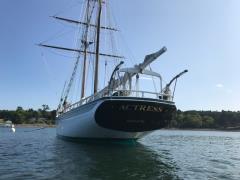 Free community event to help kick off International Maritime Film Festival
Bucksport, Maine -- On Friday, September 29 at 8pm, everyone is invited to a free community event to help kick off the weekend-long International Maritime Film Festival. Bucksport artist Tara Law will project film onto the sails of a 76' wooden sailboat, ACTRESS, at the Town Dock. There will be live musical accompaniment. Tara will use images of boat building, underwater scenes, cruising films, and more to create a beautiful and unique scene in the heart of Bucksport Harbor.
A VIP party will take place aboard ACTRESS during the event. Tickets are available for $15.00 and include food, drinks, and a chance to meet many of the filmmakers who are screening films during the festival.
ACTRESS is also offering four berths for overnight accommodation during the festival, from Friday, September 29 through Sunday, October 1. Lodging aboard the boat plus a full festival pass and tickets to the VIP party are available for $125. Tickets are very limited and must be reserved in advance. There is an option to sail to and from Bucksport from Belfast if you're staying aboard ACTRESS for the weekend.
Tickets, festival schedule, and more are available at maritimefilmfestival.com. The first film of the festival begins at 6pm on Friday, September 29 at the Alamo. Festival passes are available in half day, full day, and full weekend options. Tickets will be sold at the door depending on availability. It is recommended you purchase tickets in advance online.
The International Maritime Film Festival is a project of Main Street Bucksport and WoodenBoat Publications. The festival is made possible by our sponsors: Brooklin Boat Yard, Yachting Solutions, Front Street Shipyard, Stephens Waring Yacht Design, Ocean's Edge Realty, Bucksport Motor Inn, Tradewinds Marketplace, and David Gelinas.