Jazz saxophonist, flutist, composer and world touring artist comes to The Dance Hall
---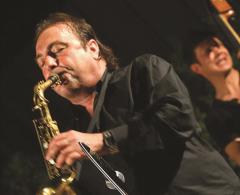 JAZZ @THE DANCE HALL WITH GREG ABATE
Jazz saxophonist, flutist, composer and world touring artist comes to The Dance Hall
Kittery, Maine- On Friday, June 14th at 8 p.m. jazz saxophonist, flutist, and composer Greg Abate returns to The Dance Hall in Kittery for an evening concert. Abate first wowed The Dance Hall audience last year as the featured guest artist with the locally known OURBIGBAND.

In the mid 70s after finishing a four year program at Berklee College Of Music, Greg played lead alto for the Ray Charles Orchestra for 2 years. In 1978 Abate formed his group Channel One which was a favorite in the New England area and from there had the opportunity to play tenor sax with the revived Artie Shaw Orchestra under leadership of Dick Johnson from 1986 to 87.
Following that experience he ventured out as post hard bop soloist playing jazz festivals, jazz societies and jazz clubs throughout the U.S. Canada and abroad, including Europe, UK, Moscow and Georgia Russia.

Abate recorded his first CD Live At Birdland NYC in 1991 on the Candid Jazz Label with the trio of James Williams, Rufus Reid and Kenny Washington.To this date Greg has recorded over 17 other recordings as leader. He is an adjunct professor of Jazz Studies at Rhode Island College and a very active jazz clinician with sponsorship from the Conn -Selmer Instrument Co., conducting workshops and master classes through the U.S and abroad.

What some say about Greg Abate:
"I sleep a lot better knowing there are alto players like Greg! It was a joy to make music with him and he writes good songs that are challenging." Phil Woods

"Abate is not content to rely on stock bebop riffs and standard chord progressions. Rather, the sharp angularity of his phrases and the often startling pauses in his fast-moving lines give his work a feeling of constant invention and creativity."
Howard Reich, Chicago Tribune

"Greg Abate is an absolute powerhouse who will absolutely not let hard driving bebop die.
One of the most exciting players around today, Gregs commitment to the music is total."
W. Pickowitz, Jr., The Jazz Messenger

"Multi-saxophonist Greg Abate is a prime example of the rear back and blow school of contemporary bop-based players. The tunes he writes or chooses are based on the kinds of changes that harmony-oriented jazzmen have favored since the beginning and he swings through them with and eager and easy virtuosity."
David Franklin, Jazz Times

"Greg Abate is one of the most appealing saxophonists on the scene today. He is mature with an abundance of gentle self-confidence. The result is that he plays music with sweetness and daring."
Jim Merod, New Jazz Recordings

Greg Abate on Reeds with Matt Langley on reeds, Mike Effenberger on Keys, Rob Gerry on Bass & Eric Von Oyen on drums.