Local Artists Open Call - Creative Portland
---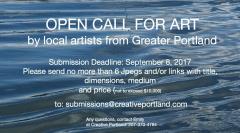 Printmakers, multi-media, painters, photographers, draftsman - one and all!
Creative Portland Gallery is planning a new exhibit in October. Please submit your work (30" X 40" framed size - or larger - is especially desirable) for juried consideration. We are also curating other venues and non-traditional gallery spaces, as well as office spaces and retail stores requesting local art - everything will hang for SALE for 6 months. If you live or work in Greater Portland, send us a jpeg or two by September 8 to: submissions@creativeportland.com.
We have an amazing (and quite large) volunteer curatorial team overseeing the process!
Note: All art for sale, less a small percentage donation to Creative Portland, depending on the venue.
THANK YOU
Any questions, call Dinah or Emily at 207-370-4784
also posted on FACEBOOK: