Maine Arts Monthly September 1- 15
---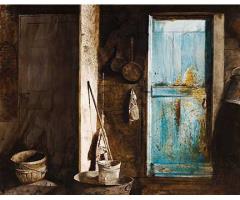 The sounds of school bells signal the start of a spectacular season in Maine to immerse oneself in early autumn art exhibits and performances. The first half of September features a slate of exhibitions, receptions, workshops, and live performances being offered by our Partnership Grant recipients. From a comic book inspired art reception, to a starry night boat ride in downeast Maine, let's celebrate the start of fall with festive delight.
Cover image:
Andrew Wyeth, Alvaro and Christina, 1968, watercolor on paper, collection of the Farnsworth Art Museum, ©2016 Andrew Wyeth/Artists Rights Society (ARS)
Courtesy of Farnsworth Art Museum
9/8 - 10/21: POW! - A Comic Book Inspired Art Show Opening reception: Friday, Sept. 8, 5-7 p.m.
Features the work of over 34 artists from across Maine and beyond

Public is invited to attend the opening reception and meet the artists. Both the exhibit and the reception are free and open to all.
Artwork: "New Friends" by Mili St. John. Courtesy of Harlow Gallery
9/10: Writing Workshop - with Matt Scease 2 p.m.- 4 p.m.
Professional development workshop includes guided writing exercises, reviewing best practices for writing clearly and concisely, and focusing on the collective needs of the participants.

Mathew

Scease

has been writing professionally for 20 years for Maine's environmental and social justice nonprofits.
9/
8: The Wyeth Experience 9:45 am & 12:45 pm
Immerse yourself in the world of Andrew Wyeth. This tour captures an authentic sense of place by illuminating the strong attraction the Olson House held for Andrew Wyeth for more than 30 years.

Tours are held once a week beginning Friday, July 7 through Friday, September 29, 2017, 9:45 a.m. to 1 p.m., and are limited to 12 people per tour.
Running through 9/8 : The All Night Strut 7:30 pm and matinee performances
Swing's the thing in this classy, sassy musical celebration of the 1930s and '40s

Weaving together the work of legendary songwriters such as Hoagy Carmichael, Frank Loesser, Duke Ellington, Johnny Mercer, Cab Calloway and the Gershwins.
Every Friday in September: The Importance of the Ash Tree 11:00 am & 12:00 pm
Learn more about the significance of the Ash Tree in the Wabanaki worldview and how it is used by artists as they craft brilliant baskets.
We will also be discussing contemporary efforts to preserve this resource and its associated art forms.
9/20: Night Sky "Under the Stars" Boat Cruise, 6:30 pm -9:00 pm
As the sun sets, travel out among the islands of Frenchman Bay and along the shores of Mount Desert Island
Listen to stories behind the constellations and many wonderful facts about the amazing universe we live in.
9/14-9/24 Peter and The Starcatcher
This swashbuckling prequel to Peter Pan chronicles the adventures of Molly, a girl charged to protect a cargo of stardust, and an orphan named Peter who eventually becomes "The Boy Who Never Grew Up."
Featured Partnership of the Month
The Center for Maine Craft is a retail store and gallery selling and exhibiting the work of over 300 Maine craft artists. Located in West Gardiner, ME, the Center is the Maine Craft Association hub and central location for craft sales, education, and activities in our state. All work for sale at the Center is handcrafted by Maine craft artists or produced by small Maine companies.
The Center for Maine Craft was established in 2006 to give more visibility to craft artists and to exhibit their work in a highly traveled area of Maine. The center was built in 2008 with the help from a consortium of craft artist organizations and state agencies such as the Maine Turnpike Authority, the Maine Tourism Association, and the Maine Office of Tourism.
The CMC features a retail gallery of handcrafted work, exhibitions of fine craft, cultural tourism information, workmanship demonstrations, and handmade Maine goods, books music film and food.
Today, the CMC generates approximately 140,000 visits and brings in $600,000 dollars in gross annual revenue. The Center is currently open everyday from 9 a.m. to 8 p.m. until October 9. Or visit the online store at the Center for Maine Craft Etsy Shop.
The Center is located at the West Gardiner Travel Plaza; Rt 126 (AKA Lewiston Road), off Exit 103 from 95 Southbound; Exit 102 from 95 Northbound; Exit 51 from I-295. Visit the Maine Craft Association website for more information.
Filter Press Releases
Contact Information
Ryan Leighton
193 State Street
SHS 25
Augusta
ME
04333
207-287-2726
vog.eniam@nothgiel.j.nayr