Maine DataArts Webinar: Introduction to DataArts Analytic Tools
---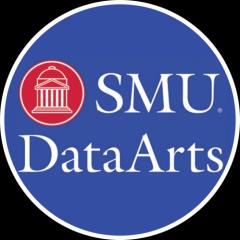 Maine DataArts Webinar
Tuesday, March 16, 2021
1:00 PM - 2:00 PM EDT
Data at Work: Introduction to DataArts Analytic Tools - Webinar for Maine Arts Organizations
Once you have completed a Cultural Data Profile, the SMU DataArts platform offers a wealth of reporting tools. This webinar will cover the basics of running analytic reports, whether you want to run a trend report to see changes at your organization over time or a comparison report to benchmark against a group of peer organizations. The webinar will also include an overview of the KIPI Dashboard and other DataArts analytic tools. (1 hour)
SMU DataArts is striving to build a national culture of data-driven decision making for those who want to see the arts and culture sector thrive. They make data useful and accessible to all in the arts and culture field, illuminating strengths, challenges and opportunities for individual arts organizations and for the sector as a whole, to help ensure long-term stability. If you would like to create a Cultural Data Profile Funders' Report from DataArts, please click here to learn how to generate the correct report. https://vimeo.com/224671737
SMU DataArts Mission
To empower arts and cultural leaders with high-quality data and evidence-based resources and insights that help them to overcome challenges and increase impact.
DataArts began in Pennsylvania as the Cultural Data Project in 2004. It was a collaborative venture of visionary funders and arts advocates with a sweeping goal: to address a longstanding need for detailed, reliable information on nonprofit arts, culture, and humanities organizations, and by doing so, strengthen management, philanthropy, research, and public policy.
By 2013, the data collection and reporting effort, then housed within The Pew Charitable Trusts, had been replicated in 13 states and Washington, With the generous transition support of Bloomberg Philanthropies, Doris Duke Charitable Foundation, The Heinz Endowments, The Kresge Foundation, William Penn Foundation and The Pew Charitable Trusts, the CDP became an independent nonprofit organization.
In 2016, guided by a refined mission and a new strategy, the Cultural Data Project became DataArts. Thename reflects an evolution beyond data collection and reporting to something bigger: advancing a new field of practice and sharing resources for data-savvy cultural leadership in the twenty-first century.
Learn more and create your own account at: https://culturaldata.org
Filter Press Releases
Contact Information
Kerstin Gilg
193 State Street
SHS 25
Augusta
ME
04333
207-287-6719
vog.eniam@nothgiel.j.nayr