May Art Walk Celebrates Marsden Hartley
---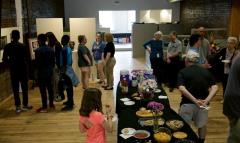 May Art Walk Celebrates Marsden Hartley
Lewiston, Maine, May 10, 2019 - On May 31, LA Arts kicks off Art Walk LA 2019 with a celebration of new public art at 155 Lisbon Street that honors modernist artist and Lewiston native Marsden Hartley. In a ribbon-cutting ceremony just prior to the first art walkof the season, Hartley Block developer the Szanton Company will unveil two Hartley-inspired mosaics on the building's facade.
"We want to both honor Marsden Hartley, who had a studio on this site in his early years, and create a distinctive 'sense of place' for his namesake building," said Nathan Szanton, President, Szanton Co. in a news release earlier this year.
Among the artists exhibiting at the May 31 Art Walk LA, Jeff Jacques will show Marsden Hartley-inspired works at Hardy, Wolf & Downing's 186 Lisbon Street space. Art lovers can visit Hartley's "Shady Brook, Maine" 1907 oil on canvas and Robert Indiana's "The Hartley Elegies: The Berlin Series, KVF X" 1991 serigraph, both on permanent view at the Lewiston Public Library (200 Lisbon St.). Also along the festive walk, visitors can stop in Dufresne Plaza to hear traditional Cuban dance music performed by Portland-based band Primo Cubano.
Art Walk LA turns the downtown into a bustling arts district on the final Friday of each month, from May through October, 5-8 p.m., converting outdoor plazas, sidewalks, and more than 20 businesses and storefronts into lively art galleries and performance spaces. Artists, artisans, and performers are encouraged to participate by registering at http://www.laarts.org/artwalk/register/.
LA Arts presents Art Walk with gratitude for its numerous community partners including Platinum sponsors City of Lewiston, Berman & Simmons, Grand Rounds, and Sun Journal; Gold sponsors Baxter Brewing Co. and Liberty Mutual Insurance; Silver sponsors Austin Associates, Community Credit Union; Hardy, Wolf & Downing; Leary & Detroy; Linnell, Choate & Webber LLP; Statefarm; Rainbow Bicycles; Bronze sponsors City of Auburn, Law Offices of Joe Bornstein, Mechanics Savings Bank, Norway Savings Bank, Optometric Associates, Twin City Financial Group; and In-Kind sponsors Marquis Signs, Panera Bread, and Hannaford Lewiston.
Since 1973, LA Arts, the arts agency for the cities of Lewiston and Auburn Maine, has pursued a mission to engage and inspire a vibrant community through arts and culture. The agency works with governments, businesses, schools and local arts and cultural organizations to create opportunities for community members across the generations to experience, learn, and participate in the arts. L/A Arts organizes arts programs and initiatives, supports the work of local artists and art organizations, and highlights the essential role the arts play in shaping an economically vital, socially integrated, and forward-looking future for its community. Learn more at www.laarts.org.