Monson Arts Launching Its Programming This Summer
---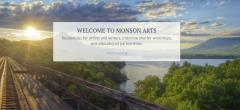 Monson Arts Is Launching Its Programming This Summer!
May 22, 2018 - Monson Arts—a new artists' residency and arts center in Monson, Maine- launches this summer, offering month-long residencies for artists and writers alongside shorter intensive workshops. The first pilot residencies will be held June-August with two groups of ten artists and writers coming from all over the country to live and work in downtown Monson for four weeks at a time. With the goal of providing time and space for creative practices, the residency program offers studio, room and board and a stipend to selected residents. Online application to this program is currently open for residencies in October and November. The deadline to apply for Fall residencies is July 7.
In addition to month-long residencies, Monson Arts will also offer shorter intensive workshops in a residential setting. Participants receive housing, meals, and access to studio space. Workshop programming kicks off July 22, when painter Alan Bray will be teaching a 4-day drawing and painting workshop. Bray will also be teaching a workshop in the fall along with writer Kim Ridley, organized by Monson Arts in collaboration with Maine Audubon. This art and writing retreat will take place September 22-27 on location at the Borestone Mountain Audubon Sanctuary.
Various events throughout the summer are also planned for the local community, including a one-day workshop event on Saturday, July 14th during which community members can sign up to take a class in book arts (taught by Rebecca Goodale), ceramics (taught by Jemma Gascoine), or hand-cranked kinetic sculptures (taught by Wade Warman). On July 21, as part of the town's annual Summerfest celebration, Monson Arts will be hosting a stone carving demonstration along Main Street where passers-by can try their hand at carving letters in Monson slate. Summer programming will wrap up with a workshop in audio and podcast production taught by Future Projects Media (Josie Holtzman and Isaac Kestenbaum), taking place September 2-5.
Monson Arts is a project of Maine's Libra Foundation, which began investing in the development of an arts program for Monson as a way to spur economic and creative growth in the region. The foundation has purchased and renovated over 20 buildings in the community to be used for residences and studios. Stuart Kestenbaum, former director of the Haystack Mountain School of Crafts and Maine's poet laureate, is advising the foundation on the development of the programs.