Seeking applicants | NAS 2019 Creative Community Fellows
---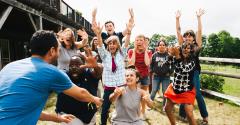 National Arts Strategies is currently accepting applications for Creative Community Fellows, our six-month collaborative learning experience for cultural entrepreneurs driving change in their communities, and we would love if you could share this opportunity with your network.
Applications are due July 9 and the program will run from fall 2019 through winter 2020. Tuition is underwritten, but does not include travel support. If you can assist us in spreading the word, I've included a short write-up, social media-length posts and several images below which you are welcome to share. Please feel free to reach out if you would like to coordinate additional content or I can answer any questions about the program.
Are you a creative change-maker using the power of arts and culture to drive equitable change in your community? NAS is accepting applications for Creative Community Fellows, a six-month learning experience where trailblazers from across the country collaborate to strengthen and grow their incredible projects.

Creative Community Fellows unites leaders working at the intersection of culture and community to be part of something bigger. Together, artists, community organizers, administrators and entrepreneurs will learn life-changing skills both online and at in-person events from fall 2019 through winter 2020. Fellows will work with mentors, funders, experts in the field and each other to take their arts-based projects to the next level. Program tuition, including the cost of lodging and food, is completely underwritten and Fellows are only responsible for their transportation to in-person events.

Discover the Creative Community Fellows journey and submit your application through July 9, 2019 at www.artstrategies.org/fellows!