UMaine Museum of Art announces Traces: Amy Theiss Geise & Keliy Anderson-Staley
---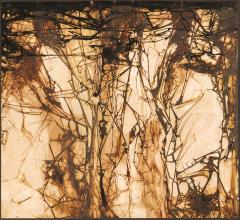 UMaine Museum of Art announces Fall Exhibition

BANGOR – The University of Maine Museum of Art, located at 40 Harlow Street in downtown Bangor, opens four new exhibitions in September. UMMA is open Tuesday-Saturday from 10 am - 5 pm and brings modern and contemporary art to the region, presenting approximately 12 original exhibitions each year. UMMA's fall shows open to the public on September 15 and run through December 30, 2017. Admission to the Museum of Art is free in 2017 thanks to the generosity of Deighan Wealth Advisors.

TRACES: AMY THEISS GIESE & KELIY ANDERSON-STALEY
September 15 - December 30, 2017

Traces features the works of Amy Theiss Geise and Keliy Anderson-Staley, two photographers whose processes and images question deep-rooted conceptions on what constitutes a photograph. Both photographers have not used camera or lens to create these abstract compositions. Their process of applying and manipulating photo chemicals, and the resulting final images, may be more akin to the language of painting. The splatters, drips, blooms, and marks in these assorted works are not unlike the movement and gestural brushwork seen in Abstract Expressionist canvases, particularly notable in Action Painting and Color Field.

Geise and Anderson-Staley's work methods necessitate a keen understanding of the fleeting nature of photographic chemicals, darkroom techniques, and materials. However, of equal importance to their processes is the sheer delight of experimentation. A creative fearlessness and willingness to embrace uncertainty is essential in realizing these evocative works. The imagery invites innumerable associations including mutable landscapes, networks, organisms, and micro/macro worlds.

Anderson-Staley resides in Houston, Texas and creates works using a wet-plate collodion tintype process—the origins of which are rooted in photography's early history. Giese, who is based in Boston, Massachusetts, creates her images by using black and white darkroom chemistry on both silver gelatin and chromogenic papers.

Admission to the Museum of Art is FREE in 2017 thanks to the generosity of Deighan Wealth Advisors.