Waterfall Arts seeking Executive Director
---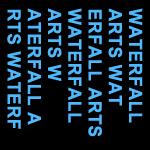 Waterfall Arts now hiring Executive Director
On January 3, the Waterfall Arts Board of Directors announced the departure of Executive Director, Martha Piscuskas. Read more here.
TITLE: EXECUTIVE DIRECTOR
The Board of Directors of Waterfall Arts in Belfast, Maine seeks a proven organizational leader to guide this unique community arts center in its next phase of growth. The most comprehensive nonprofit arts center in Midcoast Maine, Waterfall Arts began almost 20 years ago and continues to expand its programming and audience.
At this important stage in Waterfall Arts' development, the board seeks an Executive Director with business acumen, management skills, and proven experience in fundraising – a passionate yet practical leader, who will work collaboratively to build sustainability in pursuit of the organization's ambitious goals to build audience, expand programming for all ages, and improve its facilities through an ongoing capital campaign.
CANDIDATE REQUIREMENTS:
The successful candidate will be a proven leader with business acumen and experience in managing a non-profit organization, a proven record in development and fundraising, and an appreciation for the arts. Specific requirements are:
Bachelor's degree
5 or more years senior nonprofit management experience
Proven ability to motivate, develop, and lead teams of people
Strong budget management skills, including budget preparation, analysis, decision-making, and reporting
Strong organizational abilities including planning, delegating, program development and task facilitation.
Ability to convey a vision of Waterfall Art's strategic future to staff, board, volunteers, and donors
Experience with fundraising strategies and donor relations unique to the nonprofit sector
Strong written and oral communication skills
Ability to interface and engage diverse volunteer and donor groups, including board members, and committee members
Demonstrated ability to oversee and collaborate with staff
Strong public speaking ability
Willingness to live within commuting distance to Belfast and travel as needed to promote Waterfall Arts
DUTIES AND RESPONSIBILITIES:
Leadership
Works directly with the Board Chair and Executive Committee to evaluate Waterfall Arts' programs and daily operations in the context of the organization's mission and goals—both short and long term
Promotes effective governance by communicating with the Board of Directors, attending monthly meetings, and providing regular feedback on operations, programs, finances, and staff
Develops policies and procedures in coordination with the Board of Directors, and ensures that such policies and procedures are communicated to staff and implemented
Makes recommendations for the establishment and oversight of Board committees and oversees staff involvement in such committees
Protects organizational assets
Sets a standard of excellence as an example to other arts organizations, including ongoing professional development for staff
Management
Ensures adequate availability and use of personnel, based on annual budgets and work planning; Adjusts operational and programmatic goals based on these resources
Oversees and leads staff; Evaluates the performance of all staff annually and provides disciplinary action when necessary.
Oversees the delegation of tasks to Board committees
Finance and Fundraising
Facilitates the creation, approval, and implementation of an annual budget
Approves expenditures outside of the annual budget, in coordination with the Treasurer. Authorized to sign purchase orders, checks, and binding legal documents
Reviews monthly financial reports and cash flow, and provides information to the Board of Directors, proposing appropriate action when indicated
Ensures the fiscal integrity of Waterfall Arts by managing operations within the approved budget, maximizing resource utilization, and maintaining the organization in a positive financial position
Oversees year-end financial reporting
Develops and implements a fundraising strategy to ensure that Waterfall Arts is financially sound
Cultivates donors and sponsors
Develops new revenue streams in coordination with the Directors of Programming & Outreach and Operations
Oversees fundraising campaigns in coordination with the Development Committee
Community Relations
Advocates and articulates Waterfall Arts' mission, goals, and objectives
Cultivates and engages with community partners, including local arts initiatives and organizations.
Participates in speaking engagements and other promotional activities to promote Waterfall Arts' work
Increases public knowledge of Waterfall Arts and its reach within the local community and throughout the state in coordination with the Director of Programming & Outreach and Marketing Manager
Assures the organization is presented in strong, positive image and addresses criticism or misinformation where appropriate
HOW TO APPLY
Interested candidates should submit a resume and letter of interest. In your letter of interest, please address how your qualifications and experience match the strategic priorities of Waterfall Arts, and include detailed information concerning work experience, past successes, leadership experience and qualifications. Please provide contact information for professional references.
Review of applications will begin January 31, 2019. Submit applications to jobs@waterfallarts.org. Applications will be acknowledged upon receipt – please no phone calls.
COMPENSATION
The compensation package includes a salary commensurate with experience. This position reports directly to the Board of Directors. The successful candidate can expect a formal review after six months as well as an annual review.
NONDISCRIMINATION
Waterfall Arts does not discriminate against any person on the basis of race, national origin, ancestry, public assistance, ethnic background, religion, marital status, economic class, age, disability or handicap (mental or physical), sex, creed, veteran status, sexual orientation, gender identity/expression and any other legally protected characteristics in admission or participation in its programs, services and activities, or in employment. Waterfall Arts complies with all applicable national, state and local laws pertaining to nondiscrimination and equal opportunity and will take "affirmative action" measures to ensure the enforcement of its policies.
ORGANIZATIONAL OVERVIEW
Waterfall Arts is highly respected as the most comprehensive community arts center in Waldo County and surrounding areas, with a population base of over 50,000 people. Waterfall Arts offers resources to students, professionals, and arts enthusiasts of all ages, including art classes, exhibitions, events, performances, open media-specific studios (clay, print, and photography), free and low cost after school art programs, public art projects, long-term studio space to artists and teachers, and short-term rental facilities to artists, performers, and other organizations. Waterfall Arts serves the community with a staff of seven (mostly part-time) including a Director of Programming & Outreach, Director of Operations, Marketing Manager, Facilities Manager, Youth & Family Outreach Coordinator, and Facilities Assistant, along with the Executive Director position. The organization's budget is approximately $400,000 – primary income sources are rentals, program fees, grants, and donations.
Waterfall Arts was founded in 2000 as the Arts Center at Kingdom Falls on an expansive 11 acre rustic site in Montville, Maine. The founders and area artists came together to offer local arts experiences for all ages and skill levels inspired by the natural beauty of the woods, streams, ponds, and waterfalls on site. In 2005, the Mayor and City Council of Belfast, looking to re-purpose its 1935 Anderson Elementary School, encouraged Waterfall Arts to expand from Montville and establish a year-round arts center in downtown Belfast. Today, Waterfall Arts is a vibrant, nonprofit, community art venue committed to its mission "to create community in harmony with nature through the transformative power of the arts."
Waterfall Arts owns, manages, and maintains its 16,375 sf school building, which comprises a variety of studio and classroom spaces, and develops and runs extensive programming throughout the year, including:
Exhibitions: Waterfall Arts brings regional and national artists to Belfast throughout the year. Guided by an annual theme, exhibitions offer thousands of visitors exposure to inspiring, often cutting-edge, arts experiences. Exhibitions are accompanied by artist talks, workshops, opening receptions, outreach to area schools, and other exhibition-specific programs.
Classes, Open Studios, and the Youth & Family Outreach Program (YFO): Classes offered at Waterfall Arts cover a wide variety of media: clay, photography, book arts, sculpture, music, painting, printmaking, fiber arts, and more. Photography, Printmaking, and Clay studios, as well as the Bridge Studio for youth programming, provide tools and workspace to artists both young and old. YFO is a multi-tiered program that provides safe spaces for young artists to connect with themselves, each other, and the community through quality creative experiences, including after school programs, community events, youth exhibitions, and outreach to local schools and youth serving organizations.
Performances and Film Screenings: Waterfall Arts presents performance-based artists, dancers, musicians and theater groups, and screens independent films in concert with its mission. Concerts and performances have featured nationally touring acts such as the What Cheer? Brigade and Bread & Puppet Theater. Waterfall Arts has also regularly hosted the All Roads Music Festival (formerly the Free Range Music Festival), the Seal Bay Music Festival, the Belfast Poetry Festival, as well as many shows of local and regional acts.
Through the full scope of our programming, Waterfall Arts attracts an audience of nearly 8,000 on an annual basis.
Current goals, as defined in our 2018 Business Plan (available upon request) are to enhance user experience, improve financial sustainability, and reach target markets; as well as improve energy efficiency and accessibility. The identified strategies are:
Continue to serve as the creative center for the arts in Waldo County
Create and expand dynamic programming not currently available to the community
Increase program participation, accessibility, and affordability
Strengthen outreach capabilities and partnerships to forge new strategic alliances with community stakeholders
Update and enhance our 80 year old building ($1.75M capital campaign underway)