'From a Woman's Perspective' an Annual Exhibit at Richard Boyd Art Gallery
Date: September 1, 2019 - September 29, 2019
Time: 10:00 AM - 05:00 PM
Location: Richard Boyd Art Gallery, Portland
---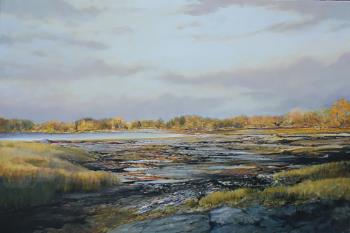 (Portland, ME) To commemorate Women's Equality Richard Boyd Art Gallery invites you to join us Sunday, September 1 at 10:00 a.m. for the opening of 'From a Woman's Perspective' an annual group exhibition of original paintings created by women from their point of view.
Creating art gives women another voice, a way to express their true feelings about daily life and the world around them. It's a means of relaxation and a way to cope with issues of the day.
Drawn from the gallery's inventory of original works, this multi-generational exhibition includes a selection of over 25 paintings created by eight accomplished women - Amy Bickford, Patricia Chandler, Carrin Culotta, Jane Herbert, Scarlet Kinney, Jen Pagnini, Felicity Sidwell, and Susan Tan. Although each artist has her own style, technique, and approach to creating art they are joined by a passion - expressing themselves through art.
The exhibit is open free of charge between the hours of 10:00 a.m. and 5:00 p.m. daily through September 29, 2019. For more information about the exhibit contact the gallery by phone at (207)-712-1097, via email at info@richardboydartgallery.com or visit the gallery's website at http://www.richardboydartgallery.com .
Like us on Facebook at http://www.facebook.com/RichardBoydArtGallery and follow us on Instagram at #richardboydartgallery .
Copyright(C)2019 Richard Boyd Art Gallery All Rights Reserved.