'Scenes of Maine' an Annual Group Exhibition of Paintings
Date: October 2, 2019 - October 30, 2019
Time: 10:00 AM - 05:00 PM
Location: Richard Boyd Art Gallery, Portland
---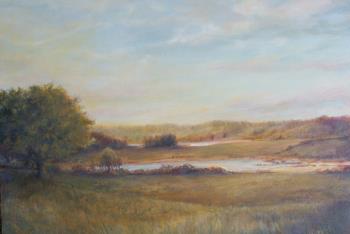 (Portland, ME) Richard Boyd Art Gallery invites you to the opening of an annual group exhibition of paintings on Wednesday, October 2 at 10:00 a.m.
The exhibit is comprised of works that exemplify the diversity of subject matter in Maine which has long been a source of inspiration for artists. The show features paintings in a variety of mediums and styles depicting scenes from the interior, to the islands, coves, and working waterfronts in Maine. Each work is the artist's interpretation of a scene in Maine.
The exhibit includes original paintings by gallery artists' Amy Bickford - acrylic based gouache, and watercolor; Patricia Chandler - oil, cold wax medium, and mixed media; Kevin Daley - oil; Randy Eckard - watercolors; Jane Herbert - acrylic; Roy Perkinson - pastels; and Wilson Stewart - oil, and acrylic.
Scenes of Maine is open free of charge between the hours of 10:00 a.m. and 5:00 p.m. daily through October 30, 2019. For more information contact the gallery by phone at (207)-712-1097, via email at info@richardboydartgallery.com or visit the gallery's website at http://www.richardboydartgallery.com . Like us on Facebook at http://www.facebook.com/RichardBoydArtGallery . Follow us on Instagram at #richardboydartgallery .
Copyright(C)2019 Richard Boyd Art Gallery All Rights reserved.