"Serenity - 2017" opens November 3 at Richard Boyd Art Gallery
Date: November 3, 2017 - November 26, 2017 (Sunday, Friday, Saturday)
Time: 10:00 AM - 03:00 PM
Location: Richard Boyd Art Gallery, Portland
---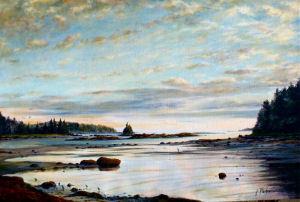 (Portland, ME) Richard Boyd Art Gallery opens "Serenity" an annual group exhibit of visual arts created by gallery artists on Friday, November 3 at 10:00 a.m. The exhibit features over twenty original paintings in a variety of mediums and styles that evoke feelings of tranquility or calmness in the viewer.
Featured in the exhibit are works by artists' Amy Bickford - paintings in gouache; Jane Herbert - paintings in acrylic; and Bob Santandrea - images in pastel.
"Serenity" is open free of charge between the hours of 10:00 a.m. and 3:00 p.m. every Friday, Saturday, and Sunday through November 26, 2017. Additional days and times can be scheduled by appointment.
For more information about the exhibit please contact Richard Boyd Art Gallery by phone at (207)-712-1097, via email at info@richardboydartgallery.com or visit the gallery website at http://www.richardboydartgallery.com . Like the gallery on Facebook at http://www.facebook.com/RichardBoydArtGallery .
Copyright(C)2017 Richard Boyd Art Gallery All Rights Reserved.