'Works on Paper: Paintings and Drawings' April 1-29 at Richard Boyd Art Gallery
Date: April 1, 2017 - April 29, 2017
Location: Richard Boyd Art Gallery, Portland
---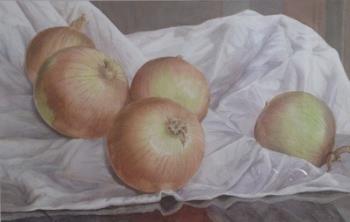 (Portland, ME) 'Works on Paper' an annual exhibit at Richard Boyd Art Gallery opens Saturday, April 1 at 10:00 a.m. The exhibit explores works by three artists creating paintings and drawings on a time honored raw product - paper. An unforgiving surface around for centuries, paper reveals the artist's proficiency in creating works of visual art.
The exhibit features a selection of original paintings and drawings depicting an array of subjects from dramatic still life, to traditional landscapes and figurative studies by artists' Paul J. Noël - still life and landscapes in watercolor and oil, and figurative studies in graphite; Julianne Garvey - landscape paintings in watercolor and mixed media; and Randy Eckard - landscape paintings in watercolor.
'Works on Paper: Paintings and Drawings' is on view free of charge between the hours of 10:00 a.m. and 5:00 p.m. daily through April 29, 2017. The public is invited to meet artists Paul J. Noël and Julianne Garvey at the opening reception at Richard Boyd Art Gallery on Saturday, April 1 between the hours of 12:00 noon and 3:00 p.m.
For additional information about the reception or exhibit please contact the gallery by phone at 207-712-1097, via email at info@richardboydartgallery.com or visit Http://www.richardboydartgallery.com . Like the gallery on Facebook at Http://www.facebook.com/RichardBoydArtGallery .
Copyright©2017 Richard Boyd Art Gallery All Rights reserved.