11th annual Yarmouth Art Festival, Oct. 23-26
Date: October 23, 2019
Time: 10:00 AM - 07:00 PM
Location: St. Bartholomew's Episcopal Church, Yarmouth
---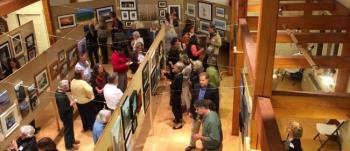 The 11th annual Yarmouth Art Festival will be Oct. 23-26, 2019, at St. Bartholomew's Episcopal Church, 396 Gilman Road in Yarmouth, Maine. The show hours are 10am-7pm Oct. 23,24,25, and 10am-3pm Oct. 26. An artists reception with refreshments, free and open to the public, will be from 5:30-7:30pm Oct. 24. Enjoy an album of photos from the 2018 reception.
Jurors have selected 170 pieces for the show. The Show Catalog displays all the pieces, organized by artist. Participating artists are from all over Maine, from Hermon and Indian Island in the north to Waterboro and Arundel in the south. Artists for 2019 are listed at the bottom of this page.
Thanks to all the Maine artists who entered this year's event! We received a record 629 pieces.
Jurors for the 2019 show were Bob Keyes, arts writer for the Portland Press Herald/Maine Sunday Telegram, Anne Haas, art librarian at Bowdoin College, and Wes LaFountain, art curator, formerly at Greenhut Gallery, most recently at Phillips Exeter Academy.
Artists from all over Maine participate in this show, in media including painting, sculpture, photography, and limited-edition printmaking. The jurying process strives to curate a unique show of high quality and variety.
The event was created in 2009 to showcase Maine artists in painting, drawing, sculpture and photography. Entry fees and sale commissions support St. Bart's programs, including contributions and member support of local community services such as Friendship House, Yarmouth Community Housing Initiative, St. Elizabeth's Jubilee Center in Portland, and the Compassionate Housing Initiative for New Mainers.
Questions? Email info@yarmouthartfestival.com
To receive notifications by email, simply click here to sign up for the email list. Follow the festival Facebook page at https://www.facebook.com/yarmouthartfestival
Artists exhibiting in 2019, with their hometowns, are:
| | |
| --- | --- |
| Dianna Anderson | Kennebunk |
| Tracy Arietti | Auburn |
| Cynthia Asherman | Yarmouth |
| Carolyn Bachman | Harpswell |
| Beth Badger | Brunswick |
| Peg Becksvoort | New Gloucester |
| Claude Bergeron | Lewiston |
| Rick Berk | Freeport |
| Marilyn Bickford | Yarmouth |
| Kristine Biegel | Gorham |
| Betsy Bisson | Woolwich |
| Kathleen Blackburn | Cape Elizabeth |
| Steve Bradford | Lisbon Falls |
| Marcia Brandwein | Pemaquid |
| Shelley Breton | Freeport |
| Holly Brooks | Portland |
| Kathleen Brown | Buxton |
| Thom Buescher | Falmouth |
| Rose Mary Burwell | Freeport |
| Mary Anne Cary | Cape Elizabeth |
| Ann Casady | Portland |
| Sandy Conlogue | South Portland |
| David Costello | Freeport |
| Joseph Cousins | Freeport |
| Vicki Curry | Falmouth |
| Sukie Curtis | Cumberland Foreside |
| Mike Czosnek | Auburn |
| Christina Davis | Scarborough |
| David Doyle | Portland |
| Brian Farm | South Portland |
| Marlena Faxon | Yarmouth |
| Norajean Ferris | Cumberland |
| Michael Fillyaw | West Bath |
| Gayle Fitzpatrick | Ogunquit |
| Elaine Fletcher | North Yarmouth |
| Margaret Ford | Portland |
| Judine French | Cumberland Foreside |
| Eric Glass | Gardiner |
| Janet Glatz | Durham |
| Alfonso Gobea | Windham |
| Tricia Granzier | Scarborough |
| Susan Hanson | Saco |
| Richard Hilgendorff | Portland |
| Liz Hoag | Portland |
| Lynn Holaday | Yarmouth |
| Julie Houck | North Yarmouth |
| Douglas Houle | Augusta |
| Sheri Hume | Portland |
| David Hyde | Pownal |
| Alice Ingraham | Yarmouth |
| Diana Johnson | Freeport |
| Marilyn Keating-Porcaro | Gray |
| Ginny Keegan | Yarmouth |
| Régis Langelier | Ocean Park |
| Paula Laverty | Cape Elizabeth |
| Janet Ledoux | Biddeford |
| Sandra Lemmerman | Durham |
| Stacey Lodato | Freeport |
| Amy Audet Lomasney | Wells |
| Judith Long | Brunswick |
| Cheryl Lunde | Wells |
| Jen MacDonald | Yarmouth |
| Carol MacLeod | Cape Porpoise |
| Laetitia Macos | Alfred |
| Lesley MacVane | Falmouth |
| Fred Mafigiri | South Portland |
| Penny Markley | Winthrop |
| Dawn Maron | South Portland |
| Michael Maron | South Portland |
| Kate McGreavy | Bath |
| Kay McKeever | Auburn |
| Bruce McMillan | Shapleigh |
| Constance McVey | Auburn |
| Larinda Meade | Portland |
| Caren-Marie Michel | Westbrook |
| Gail Morgan | Freeport |
| Sam Morgan | Bristol |
| Pam Moriarty | Cumberland |
| Jennifer Morris | Lisbon Falls |
| Christian Muhunde | Portland |
| K. Dana Nelson | South Freeport |
| Leo Nieter | Yarmouth |
| Anne Niles | South Freeport |
| Diane Noble | Biddeford |
| Edward Nolde | Cumberland Center |
| Patricia Olds | Cumberland Center |
| Page O'Rourke | Yarmouth |
| Phyllis Ouellette | Canton |
| Kerrin Parkinson | South Portland |
| susan partridge | Scarborough |
| Sally Paterson | Yarmouth |
| Daniel Paulding | Parsonsfield |
| Caroline Payne | Yarmouth |
| David Pearce | Yarmouth |
| Lea Peterson | Georgetown |
| E.P. Pirt | Yarmouth |
| Denley Poor-Reynolds | Freeport |
| Jennifer Pope | South Freeport |
| Marni Prince | Cambridge |
| Geeta Ramani | Portland |
| Laurie Russo-Smith | Saco |
| Elisabeth Salberg | Auburn |
| Jane Sawyer | Yarmouth |
| Arthur Schaefer | Freeport |
| Anne Schutz | Falmouth |
| Judy Shank | Yarmouth |
| Kent Shomaker | Cape Elizabeth |
| Cynthia Smith | Gorham |
| Joyce Smith | Georgetown |
| Polly Smith | Yarmouth |
| William Steele | Yarmouth |
| Link Stevens | South Portland |
| Anne Stuer | Norway |
| Robin Swennes | Arundel |
| Valerie Upham | Brunswick |
| Ellen Vaughan | North Yarmouth |
| Michael E. Vermette | Indian Island |
| Sue Vittner | Portland |
| Dudley Warner | Falmouth |
| Diana Washburn | Falmouth |
| Julie Waterman | Old Orchard Beach |
| Michael Welch | Standish |
| Colleen White | Portland |
| Richard Winslow | Waterboro |
| Diane Woodworth | Hermon |
| Cheryl Young | Bath |