Annual 'It's Not So Black and White' Exhibit March 3-31 at Richard Boyd Art Gallery
Date: March 3, 2017 - March 31, 2017 (Sunday, Friday, Saturday)
Time: 10:00 AM - 03:00 PM
Location: Richard Boyd Art Gallery, Portland
---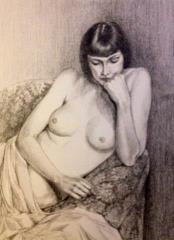 (Portland, ME) 'It's Not So Black and White' an annual exhibit at Richard Boyd Art Gallery opens Friday, March 3 at 10:00 a.m. The exhibit explores works by five artists using a full range of values to create variations in tone from deep hues of black to silvery grey. Although color is evident in some of the works this year, the focus remains on the creation of art using minimal color to create shading and variations in tone, lighting, and contrast.
The exhibit features a selection of original paintings and drawings depicting a range of subjects from figurative studies, to still life and traditional landscapes by artists' Paul Noël - portraits and figurative studies in graphite; Jane Herbert - still life and landscape paintings in acrylic; Julianne Garvey - landscape paintings mixed media; Randy Eckard - landscape paintings in watercolor; and Wilson Stewart - cityscape paintings in acrylic.
It's Not So Black and White' is on view free of charge between the hours of 10:00 a.m. and 3:00 p.m. every Friday, Saturday and Sunday through March 31, 2017. Additional days and times can be scheduled by appointment.
For additional information about the exhibit please contact Richard Boyd Art Gallery by phone at 207-712-1097, via email at info@richardboydartgallery.com or visit http://www.richardboydartgallery.com . Like the gallery on Facebook at http://www.facebook.com/RichardBoydArtGallery .
Copyright©2017 Richard Boyd Art Gallery All Rights Rerserved.