Brunswick Outdoor Arts Festival
Date: August 15, 2020
Location: Brunswick Outdoor Arts Festival, Brunswick
---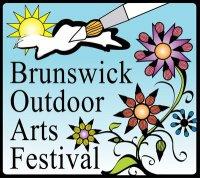 The 14th Annual Brunswick Outdoor Arts Festival will be held Saturday, August 15th from 9 a.m. to 5 p.m. in Downtown Brunswick. The festival is designed to celebrate and foster an appreciation of the arts. This juried, fine arts show includes more than 100 artists and artisans who will be displaying and selling their work along the sidewalks of Maine Street and on the lush Town Mall (Green) in downtown Brunswick. This free event features recognized artists, as well as emerging creators; working in an array of mediums from jewelry, fiber, ceramics, photography, painting and mixed media. For event details please click here
The Brunswick Outdoor Arts Festival features a variety of live music performances that are all FREE. Art demonstrations will include wood carving, iron forging, wood turning, felting and jewelry making, henna art and much more - perfect for all ages. The festival offers many free children's activities such as face painting, balloon art, crafts, and more!
This festival is run mostly by volunteers, with assistance from the Brunswick Downtown Association. Art festival co-organizer and BDA Board member, Keith Garovoy, has been involved in the event from the initial planning stages. The event features over 100 juried artists on the sidewalks of main street, roving musicians and street performers everywhere, and Demo artisans and activities for children on the Town Mall - A great family day in Brunswick!
The purpose of this show is to foster an appreciation, interest and exposure to the arts in Downtown Brunswick. The festival is a huge success for the BDA, Town of Brunswick, attendees and the artists participating. We utilize all resources available to insure the Festival's success for the public, artists, the Brunswick Downtown Association and the Town of Brunswick.