Clint Fulkerson: Fluid Geometry
Date: January 17, 2017 - March 31, 2017 (Monday, Tuesday, Wednesday, Thursday, Friday)
Time: 07:00 AM - 10:00 PM
Location: USM AREA Gallery, Portland
---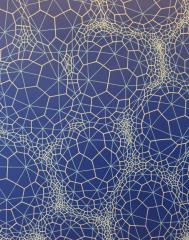 Fulkerson will create a new mural on the gallery wall and exhibit several paintings based on intricate compositions of repeating geometric shapes. Mark Wethli has written that "Fulkerson's work parallels the generative principle of repeating forms found at all scales in the natural world – from the cosmic to the infinitesimal–to create his intricate, prolific, and visionary art." Fulkerson has exhibited his work at many Maine venues, is represented by the Curator Gallery in NYC, and has received several public art commissions.
USM AREA Gallery Hours:
Monday-Friday 7 a.m. - 10 p.m.
Closed on weekends.
All exhibitions and events hosted by the USM Art Department and Gallery are free and open to the public. For more information visit www.usm.maine.edu/gallery.
Filter Events
Venue
USM AREA Gallery
35 Bedford Street
Portland
ME
04104
Organization
University of Southern Maine
Carolyn Eyler
207/780-5008
ude.eniam@relyec