Collage Playshop
Date: November 11, 2017
Location: Maine Jung Center, Brunswick
---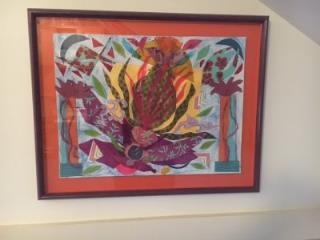 with Susan Deborah King
Saturday, November 11; 1 - 4 PM


Are you wondering about the next step you should take in life?
Do you have questions that have been burning for some time without satisfactory resolution?
By playing around with tissue paper collage, we will each let our instincts guide us toward shapes and colors, which we'll lay onto a poster board surface and brush over with a gloss medium. After we've made several pieces, we'll read and interpret what the images are telling us. The process will include readings, short discussions, and an opportunity to share what has been discovered.
The tissue paper collage method was originally developed by the late Jungian analyst, Edith Wallace.
Susan Deborah King, MDiv, is a poet, teacher, retreat leader and consultant. She has published six books of poetry and two anthologies, the latest two being Dropping into the Flower and Out of the Depths, Poetry of Poverty – Courage and Resilience. King received training at the Guild for Psychological Studies in San Francisco and Temenos Institute, in Westport, CT. She sees clients who are stuck or at a crossroads, using a process she developed called "Divination", which incorporates poetry and art. King and her husband moved to Maine two years ago from Minneapolis.