Cuban In Kittery: The Pedrito Martinez Group at the Dance Hall
Date: October 19, 2019
Time: 07:30 PM
Location: The Dance Hall at Kittery, Kittery
---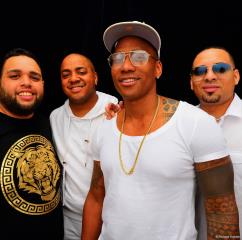 CUBA IN KITTERY: THE PEDRITO MARTINEZ GROUP
The Dance Hall features world renowned Cuban musician
Kittery, Maine- On Saturday, October 19, 2019 the renowned Pedrito Martinez Group will take the stage at The Dance Hall in Kittery. Grammy-nominated, Pedro Pablo "Pedrito" Martinez was raised in Havana, Cuba, and since settling in New York City in 1998, Pedrito has recorded or performed with Wynton Marsalis, Paul Simon, Bruce Springsteen, and Sting and has contributed to over 50 albums. Pedrito was a founding member of the highly successful, Afro-Cuban/Afro-Beat band, Yerba Buena, with which he recorded two albums and toured the world. He has received the Thelonius Monk Award, Sphinx Award for Excellence and been named "Percussionist of the Year" by the Jazz Journalists Association 4 times.
His career as a band leader began in 2005 with the formation in NYC of The Pedrito Martinez Group whose performances have included festivals, performing arts centers, and venues throughout the US, Europe, Australia and Latin America.The group's self-titled first album (released by Motema Music), was released October, 2013, was nominated for Grammy, and was chosen among NPR's Favorite Albums of 2013 and The Boston Globe Critics Top Ten Albums of 2013.
The Dance Hall, Kittery's director, Drika Overton, has been enamored of Cuban culture since her first trip to Cuba to study music and dance in 2000. She returned to the island two more times- in 2015 to the Havana Jazz festival, and again in 2018 with Ned Sublette's El Rumbazo, an immersion in Cuban Rumba with classes and performances. Pedrito Martinez was with the group as a featured performer. Seeing Martinez perform in New York in the last few years, and again in Havana, convinced Overton that she needed to share his incredible talent with her community.
"Pedrito is a genius. Working with him has been a revelation to me."
Wynton Marsalis

"The Pedrito Martinez Group is the real thing. They had the club JUMPING! It made me feel like a teenager!"
Quincy Jones

"The Pedrito Martinez Group is writing a new chapter in Cuban music
history."
NPR All Things Considered

Tickets are $40 in advance and can be purchased at www.thedancehallkittery.org. Doors open at 7:30 p.m., music at 8:00 p.m.