Eastport ArtWalk Passport Weekend - July
Date: July 23, 2021 - July 25, 2021
Location: Downtown Eastport, Eastport
---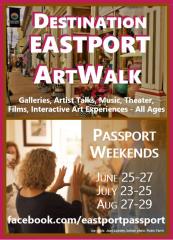 The Eastport ArtWalk Passport weekends continue to celebrate the arts the Way Downeast way. Full schedule of events is available at: www.facebook.com/eastportpassport
The July ArtWalk Passport weekend opens downtown Eastport on Friday July 23rd with a slate of events sponsored by the Downeast Rainbow Alliance, including an Art Installation Opening at the North Church from 5-9 p.m. and a Pride Dance Party in the Sutherland Amphitheater featuring crowd favorite "Beach Trash" from 6-8 p.m
The all-ages, art-focused fun continues all day on Passport Saturdays in Eastport with gallery visits, artist talks, interactive art activities, Celtic music with Moose Island House Players and bagpiper Kara McCrimmon at 2p.m., the Stage East StorySlam at 4 p.m., and at dusk, Moonlight movies presents "Night at the Museum".
Get your "passports" stamped at participating galleries to be eligible to win a $100 gift certificate at the Saturday afternoon drawing following the Stage East StorySlam. You need not be present to win.
The Passport weekendcontinuesin Lubec on Sunday, July 25 as visitors are encouraged to take the 12 noon Ferry from Eastport to Lubec, then head to Stockford Park on South Water St. for the LAMPS summer concert series.
Come experience the arts, the Way Downeast way, July 23rd-25th! Full schedule of events and rain updates found at: www.facebook.com/eastportpassport