Hallowell Granite Symposium
Date: September 11, 2021 - September 19, 2021
Time: 10:00 AM - 04:00 PM
Location: Stevens Commons, Hallowell
---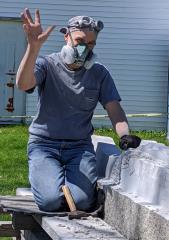 The Hallowell Granite Symposium will take place over nine days, September 11 to 19, on the grounds of Stevens Commons in Hallowell. Xix of Maine's most notable sculptors will transform granite blocks quarried in Hallowell into works of art inspired by one of the four "Maine200" Bicentennial themes. As much as possible given the evolving COVID19 pandemic, and with the safety of the audience and artists paramount, the public will be invited to visit the site to watch the sculptures develop daily between 10AM and 4PM. Visitors will vote for their favorite sculpture and one or more will be permanently placed in downtown Hallowell to commemorate the Maine State Bicentennial.
A Welcome Center at the Symposium site will feature historical displays along with antique tools and other artifacts from the granite industry. A "soft stone" work area provided by the Maine Stone Workers Guild will offer visitors a "hands-on" opportunity to do some carving of their own. The Welcome Center, located in a large open air event tent, will be open from 10AM until 4PM daily when the sculptors are at work.
Visit the symposium website for details, the full event schedule is coming soon: http://hallowellgranitesymposium.org/
The six participating artists, who are all professional members of the Maine Stone Workers Guild are Jon Doody of Augusta, Sam Finkelstein of Rocklan, Mark Herrington of Franklin, Isabel Catherine Kelley of Windham, Dan Ucci of Pittston and Andreas von Huene of Woolwich.
The Hallowell Granite Symposium will bring the art of stone carving back to Hallowell to educate and engage our citizenry, and reintroduce granite sculpture to our public spaces as permanent public art that reflects back on Hallowell's history for current and future generations. One well known example of the skill of Hallowell's long ago granite workers' is "National Monument to the Forefathers", a large-scale sculpture located in Plymouth, Massachusetts. "Faith", the central female figure is 36 feet tall and took a full year to carve in the Hallowell granite yards in the 1880s. One can imagine Hallowell citizens visiting regularly to watch Faith emerge from a massive block of granite. The Hallowell Granite Symposium will offer an echo of that experience to citizens today.