Jean Kigel's 20th Annual Exhibit Asian Brush, Watercolor, Oil
Date: August 10, 2018
Time: 10:00 AM - 07:00 PM
Location: Brick House Gallery, Waldoboro
---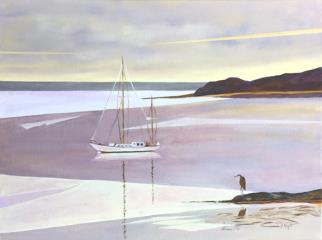 Jean Kigel celebrates two decades of exhibiting paintings of Maine and the Far East the second weekend in August. These annual events began in Tenants Harbor, transitioned to Damariscotta, and finally to Waldoboro. This year's exhibit showcases her newest paintings on Friday, Saturday, and Sunday – August 10th, 11th, and 12 - from 10:00 – 5:00 each day. On Friday, August 10 the public is invited to a reception from 5:00 – 7:00PM. The Gallery is located at 176 Winslow Mills Road (Route 32).
Her signature images combine her twin passions for flowers and for water. Kigel painted Van Gogh Blues in subtle shades blues and purples. Illumination, a foggy scene from Back Cove, Waldoboro reveals her other passion, water. In addition, Kigel will exhibit small still-lifes of vintage objects.
For more information, preview this exhibit at www.jeankigel.com or call 975-3262.
Filter Events
Venue
Brick House Gallery
176 Winslows Mills Road
Waldoboro
ME
04572
Organization
Jean Kigel
Jean Kigel
207 975-3262
moc.legiknaej@naej