Maine College of Art's Holiday Sale
Date: December 7, 2019
Time: 10:00 AM - 05:00 PM
Location: Maine College of Art, Portland
---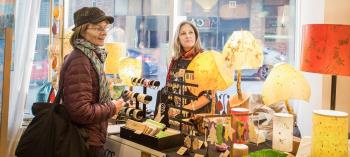 The Holiday Sale supports MECA's education, outreach, and student programs while providing an opportunity for MECA students, alumni, faculty and staff to sell unique, handmade arts, crafts and gifts for the holiday season. The Holiday Sale has free admission and is open to all ages!
Location and Sale Dates
Maine College of Art, 522 Congress St., Portland, ME 04101
Friday, December 6th, 5:30–9PM
Saturday, December 7th, 10AM–5PM
Sale Details
The juried Holiday Sale includes over 60 vendors, selling handmade ceramics, jewelry, furniture, prints, textiles and more. The sale will also include our annual artist-designed window display and a Featured Artists Raffle showcasing the work of six MECA alumni. Come see the display and participate in our raffle for the chance to win work from one of these talented artists! Raffle tickets are only $5, or 6 for $25, and all proceeds benefit the MECA Student Scholarship Fund.
2019 Vendors
2019 Featured Artists
Holiday Sale Window Display
The 2019 MECA Holiday Sale Window Display will be designed by Hannah Rosengren '13. The window display is located in the Porteous building lobby and is visible from Congress Street. The window will be on view for the entire month of December.
Library Sale
The Joanne Waxman Library at MECA will be holding their annual book sale during Holiday Sale hours. All of the proceeds from the book sale will benefit the Library. Browse hundreds of discounted new and used art books including exhibition catalogs, oversize texts, and how-to titles, many starting at $5 or less. Books make great gifts, and all funds raised go directly toward supporting the Library's print collection.
"Not the Holiday Sale"
DesignInquiry will be selling artist zines, folios, whoopie-pie legislation dish towels, Futurespective bags, bread & poodle aprons, posters, postcards, sterling lobster rings – all designed and produced by the DesignInquiry universe of designers and artists in limited editions in conjunction with the ICA exhibition DesignInquiry: Furturespective. Proceeds will support DesignInquiry residency scholarships.