Maine Poet Morrison Releases New Collection
Date: October 28, 2021
Time: 06:30 PM - 07:30 PM
Location: Rockland Public Library, Rockland
---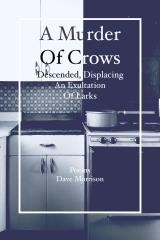 Maine Poet Dave Morrison will celebrate the release of his new collection of poems with a reading at the Rockland Public Library on Thursday October 28 at 6:30 pm. A Murder of Crows Descended, Displacing an Exultation of Larks (Soul Finger Press) is Morrison's 16 book of poetry.
Hailed as 'A hearty weed in the garden of American poetry' Dave Morrison's poems have been published in literary magazines and anthologies, and featured on Writer's Almanac, Take Heart, and Poems from Here. Morrison has published sixteen books of poetry including Clubland (poems about rock & roll bars in verse and meter, Fighting Cock Press 2011) and Cancer Poems (JukeBooks 2015).
This will be a free in-person event with limited seating, and masks requested. There will also be a simultaneous free livestream to Morrison's Facebook page.
Writing during a pandemic amplified his usual themes of yearning and loss, unresolved personal history, the back-alley brawl between joy and despair, endurance and redemption, all with his trademark understatement.
The event will take place in the Community Room. The Rockland Public Library is located at 80 Union Street in Rockland.