Maine State Ballet Presents Peter & the Wolf and Western Roundup October 9-17
Date: Recurring Weekly Starting October 9, 2015 (Friday, Saturday)
Location: Maine State Ballet Theater, Falmouth
---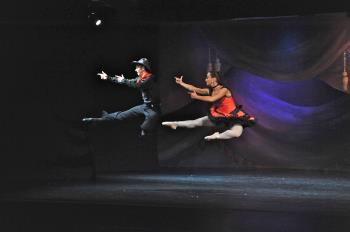 Maine State Ballet is presenting a fun and engaging ballet performance for audiences of all ages with its endearing and high-paced combination show Peter & the Wolf and Western Roundup October 9-17 at the Maine State Ballet Theater at 348 U.S. Route One in Falmouth.
Peter & the Wolf is a tale about a boy, his friends the Bird, the Duck and the Cat, and a Big Grey Wolf. In addition to the gorgeous visuals and beloved story, this show is an excellent way for children to learn the instruments in the orchestra. Western Roundup is a fast paced ballet danced to music representative of our American west.
The show runs:
Friday, October 9 at 7 p.m. Saturday, October 10 at 1 p.m. and 4 p.m. Friday, October 16 at 7 p.m. Saturday, October 17 at 1 p.m. and 4 p.m.
Tickets are on sale online at www.mainestateballet.org or through calling the theater at 207-781-3587. Tickets are priced $15-20, and discounts are available for seniors and children. There is a $5 processing fee for phone and box office orders, but no fee for online purchases. For more information, visit www.mainestateballet.org.
Maine State Ballet, based in Falmouth, Maine, is one of New England's leading performing arts institutions and twice named Maine's Best Dance Group by Downeast Magazine. Its two components are the School for the Performing Arts, offering instruction in ballet, tap, jazz and other dance styles to more than 500 children and adults; and the Maine State Ballet Company, comprised of more than 25 professional dancers. Maine State Ballet is a nonprofit organization.
###