Mike Miclon's The Early Evening Show Halloween Special!
Date: October 5, 2019
Time: 07:30 PM - 09:30 PM
Location: Celebration Barn Theater, South Paris
---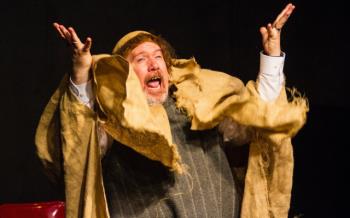 Don't miss this spooktacular edition of The Early Evening Show, the late-night talk show spoof. This special Halloween show will get you in the spirit, with the secret to trick-or-treating success and much costume inspiration.
The Early Evening Show has been performed from Maine to Switzerland. A sell-out phenomenon, the Early Evening Show is the longest-running live variety show in Maine state history!
The Bangor Daily News called it, "a seamless, hilarious production," and CBS Sunday Morning called it, "must-see reality."
Join us the first Saturday of each month for lots of surprises with an ALL NEW SHOW!
Filter Events
Venue
Celebration Barn Theater
190 Stock Farm Rd
South Paris
ME
04281
Shara Drew
2077438452
moc.nrabnoitarbelec@ofni