Mike Stern 2018 Jazz Residency Initiative Capstone Concert
Date: January 5, 2018
Time: 07:00 PM - 09:00 PM
Location: Brewer Performing Arts Center, Brewer
---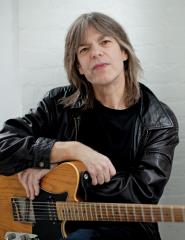 Bangor Savings Bank is proud to present the second annual Brewer Music Jazz Residency Capstone Concert at the Brewer Performing Arts Center, January 5 at 7:00 pm, with support from Jazz Residency Initiative and Brewer Music Association. The concert will feature world renowned six-time Grammy-nominated jazz guitarist Mike Stern, along with the Brewer Community School and the Brewer High Jazz ensembles. The concert will also include a professional set during which Mr. Stern will be joined on stage by regional professionals. Stern will be leading an artist-in-residency experience for Brewer student musicians for three days prior to the concert. During the residency, he will be teaching a series of masterclasses, as well as providing instruction and feedback to student instrumentalists.
Mike Sternis a six-time Grammy nominated jazz guitarist. After studying jazz at Berklee College of Music his career took off when he joined Blood Sweat & Tears in 1976. After a few years and two albums with BS&T, he joined Billy Cobham's band and eventually joined Miles Davis's group in 1981. Stern launched his solo debut album Upside Downside which he recorded with Jaco Pastorius, David Sanborn and Bob Berg in 1986. During his career, he has recorded 16 albums as a leader, and his collaborations have included working with Michael Becker. Kenny Garrett, Bela Fleck, Peter Erskine, Joe Henderson, Dave Weckl, John Patitucci, Jack DeJohnette, Victor Wooten, and the Yellowjackets.
Concert tickets are $22 for Adults, $18 for Seniors/Military, and $10 for Students. You can purchase tickets online at brewerperformingarts.com.
The 2018 Jazz Residency is made possible by the generous support of presenting sponsor Bangor Savings Bank, and other local sponsors including Friendly River Music, Geaghan's Pub & Brewery, Harvest Moon Deli, The Maine Edge, and Zone Radio, as well as Residence Inn by Marriott, and by grants from the Maine Arts Commission.
For more information visit www.brewerperformingarts.com or www.jazzresidencyinitiative.org. You can also contact Brady Harris, Brewer High Music Director at (207) 944-8760 or bharris@breweredu.org; or Christopher Burk, JRI Project Coordinator (612) 991-213 or cburk@jazzresidencyinitiative.org