Morrison Launches Welcome Homesick
Date: February 2, 2018
Time: 07:00 PM - 09:15 PM
Location: Camden Opera House, Camden
---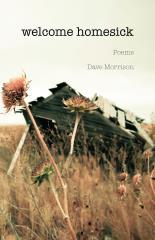 Poet Dave Morrison will host his fourth annual Downtown Poetry Party on Friday February 2 at 7 pm on the 3 floor of the Camden Opera House. Admission is free and all are welcome.
Morrison will be launching his new collection, Welcome Homesick (Lucky 13 Press) - copies will be available for purchase and signing. Morrison will also be performing Poetry Rocks, a poetry-looped-guitar mashup.
Before settling in coastal Maine and publishing eleven books of poetry, Dave Morrison spent years playing guitar in rock & roll bars in Boston and New York City. Poetry Rocks merges Morrison's life on the stage with his life on the page as his poems cross the thin rope bridge of simple guitar grooves.
Poetry Rocks is not songs, and not exactly poems. Morrison delivers his poems over simple looping guitar grooves—created from scratch for the audience in real time—that serve as distinct musical frames for each poem. (from Maine Writers and Publisher's Alliance)