Neighborhood 3: Requisition of Doom
Date: September 29, 2017 - October 8, 2017
Location: Main Stage, Russell Hall, USM Gorham Campus, Gorham
---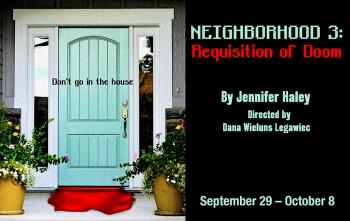 Neighborhood 3: Requisition of Doom
By Jennifer Haley
Directed by Dana Wieluns Legawiec
September 29 – October 8, 2017
Friday, September 29 at 7:30 p.m.
Saturday, September 30 at 7:30 p.m.
Sunday, October 1 at 5:00 p.m.
Wednesday, October 4 at 5:00 p.m.
Thursday, October 5 at 7:30 p.m.
Friday, October 6 at 10:00 a.m. – School Matinee (Grades 8 and up)
Friday, October 6 at 7:30 p.m.
Saturday, October 7 at 7:30 p.m.
Sunday, October 8 at 2:00 p.m.
Mom is in the kitchen mixing her Vitamin Shake. Dad is in the front yard whacking the weeds. The kids are playing indoors – brutally hacking flesh from bone as they battle zombies in the hit new video game, "NEIGHBORHOOD 3: REQUISITION OF DOOM." The funny thing is, the streets in this game look eerily familiar, the house looks like the one next door, and that decapitated zombie looks a little like your best friend's mom. Reality and virtual-ity ooze into each other in this terrifying (and funny) play by Jennifer Haley. RATED M for Mature Audiences for violence, blood and gore, parents attempting to talk to their teenage children, and inappropriate use of garden tools.
To Purchase Tickets
Visit usm.maine.edu/theatre, click on Purchase Tickets and make your selection, or call the USM Theatre Box Office at (207) 780-5151, TTY (207) 780-5646.
Plays: $8 students, $12 seniors, faculty, staff, alumni, $16 general public

Discount Wednesdays!
Join us for our 5:00 performances on Wednesdays and get your seat for just $8! ($10 for our musical)
Please arrive at least 15-30 minutes early. Open seating starts 30 minutes before the start of the performance. Performances begin promptly; late arrivals are seated at the discretion of the House Manager.
Those needing special accommodations to participate fully in this program, contact the USM Theatre Box Office (207) 780-5151. Hearing impaired: call USM's telex / TDD number (207) 780-5646.
Filter Events
Venue
Main Stage, Russell Hall, USM Gorham Campus
24 University Way
Gorham
ME
Lori Arsenault
2077805151
ude.eniam@airol