Opening Reception: Boundaries | Jacob Hessler + Richard Blanco
Date: February 17, 2018
Time: 05:00 PM - 07:00 PM
Location: Center for Maine Contemporary Art (CMCA), Rockland
---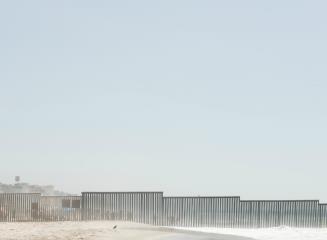 Saturday, February 17, 5-7pm
Free and open to the public
Join us for the opening of the exhibition, Boundaries, a collaborative project between Presidential Inaugural Poet Richard Blanco and contemporary landscape photographer Jacob Bond Hessler.
Blanco's poems and Hessler's photographs together investigate the visible and invisible boundaries of race, gender, class, and ethnicity, among many others; they challenge the physical, imagined, and psychological dividing lines—both historic and current—that shadow America and perpetuate an us vs. them mindset by inciting irrational fears, hate, and prejudice.
In contrast to the current narrowing definition of an America with very clear-cut boundaries, Blanco and Hessler cross and erase borders. As artists, they tear down barriers to understanding by pushing boundaries and exposing them for what they truly are—fabrications for the sake of manifesting power and oppression pitted against our hopes of indeed becoming a boundary-less nation in a boundary-less world.
Filter Events
Venue
Center for Maine Contemporary Art (CMCA)
21 Winter St.
Rockland
ME
04841
Organization
Center for Maine Contemporary Art (CMCA_
Bethany Engstrom
207-701-5005
gro.wonacmc@olleh
cmcanow.org