POW! Comic Book Inspired Art Show
Date: September 8, 2017 - October 21, 2017
Location: Harlow Gallery, Hallowell
---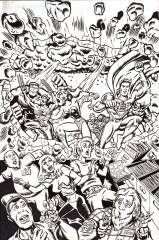 Harlow Gallery presents POW!, a comic book themed art exhibition. Artists responded to a call for comic book art as well as artwork inspired by comics. POW! features the work of over 34 artists from across Maine and beyond. The public is invited to attend the opening reception and meet the artists on Friday, September 8 from 5-7pm. The exhibition is on view September 8 – October 21, 2017 at 160 Water Street in Hallowell. Both the exhibit and the reception are free and open to the public. Gallery hours are Wednesday-Saturday 12-6pm.
Participating artists listed alphabetically by town:

Auburn: Amanda Kahl
Augusta: Anthony Austin
Bangor: Jodi Renshaw
Bowdoinham: Howard Solomon
Bristol: Ted Closson
Cape Elizabeth: Stivo Zittel
Derry, NH: Matthew Berry
Dresden Mills: Neal J. Clark
East Winthrop: August Rudy
Falmouth: Rick Parker
Fort Hood, TX: Peter Buotte
Gardiner: Allison McKeen, Tyson Pease, Abby York
Hallowell: Becky Havens, Nancy Jacob, Bruce Mayo
Jefferson: Suzanna Lasker
Manchester: Bruce Armstrong
Morrill: Kathy Weinberg
Perth, Australia. (Formerly Portland, ME): Sarah Winifred Searle
Poland: Santiago Farias
Portland: Julia Durgee, Mort Todd
Richmond: Becca Case, K. Scott Davis
Rockland: Kitty Winslow
South Gardiner: Laura Barron
South Portland: Mili St. John
Unity: Joshua Roberts
Waterville: Lesley Schuman, Brian Vigue
Weeks Mills: Justin Pierce
The Danforth Gallery at University of Maine at Augusta is also presenting a comic themed exhibition, "Seven Cartoonists in a Gallery" on view August 28 through October 6, 2017 at Jewett Hall, 46 University Drive in Augusta. The show "Seven Cartoonists in a Gallery" is a presentation by artist Ted Closson of comics and cartooning work by himself and his peers in the comics' community from around the New England region. The show will entail a traditional presentation of work on the gallery walls coupled with a reading space, a live presentation, and a workshop for comic artists and those interested in the process of making comics. For more information about "Seven Cartoonists in a Gallery" please visit www.artsuma.com.

POW! has been made possible by: Blue Marble Geographics, Chris Walter Productions, and Scrummy Afters Candy Shoppe.

Exhibitions at the Harlow Gallery are underwritten by our Patron of the Arts sponsor Camden National Bank, and by our season sponsors Capitol Dental Care, Chris Walters Productions, Eaton Peabody Attorneys at Law, Kennebec Savings Bank, Scrummy Afters Candy Shoppe, Slates Restaurant and the City of Hallowell.

The Harlow Gallery located in downtown historic Hallowell is home to the Kennebec Valley Art Association, a membership based 501(c)3 nonprofit dedicated to connecting and celebrating art, artists and community in central Maine since 1963.