Resonance and Memory: The Essence of Landscape
Date: October 5, 2017 - December 8, 2017
Location: USM Art Gallery, Gorham
---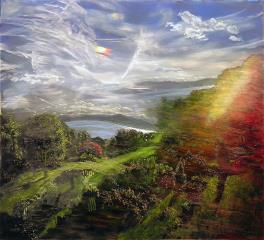 Resonance and Memory: The Essence of Landscape
October 5 - December 8, 2017
USM Art Gallery, Gorham campus

Opening reception: Thursday, October 5, 5pm - 7pm, gallery talk at 6:15pm by art critic Dominique Nahas
Each of the eight artists in this traveling group exhibition commemorates the profoundly mysterious, elusive, and imaginary qualities of landscape. Below is an excerpt from a review in New York Art Beat by Mary Hrbacek of the exhibition's debut at the Elga Wimmer, PCC in New York City:
"Resonance and Memory: The Essence of Landscape, curated by Robert Curcio and organized through Katharine T. Carter & Associates, displays eight distinctive artists whose fresh perspective on landscape reinvigorates the genre by infusing it with issues that span time, real space, digital intervention, and altered observed reality. This diverse show includes paintings, sculpture, digital drawings, photography, and glass works by Kathleen Elliot, Sandra Gottlieb, J.J. L'Heureux, John Lyon Paul, Rebeca Calderón Pittman, Gerry Tuten, Gail Watkins, and Martin Weinstein."
"Each artist on view has formulated a complex oeuvre that is attuned to his or her overriding vision of postmodern landscape work in an era of ecological degradation. All the works embody a sense of hopeful commitment to manifesting their intentions to make their distinctive voices heard. These artists forge their art in a joyful attitude of engaging enquiry; despite the global environmental crisis the works show no trace of morbidity or despair."
All exhibitions and events hosted by the USM Art Department and Gallery are free and open to the public. To learn more about 2017 exhibitions and programs, visit the USM Art Galleries website.
Filter Events
Venue
USM Art Gallery
5 University Way
Gorham
ME
04038
Carolyn Eyler
207-780-5008
ude.eniam@relyec