Seanachie Nights
Date: February 18, 2019
Time: 07:00 PM - 09:00 PM
Location: Bull Feeney's, Portland
---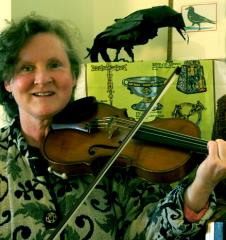 [enter event description here]
Seanachie Nights presents:
Janet Lynch in "Hibernian Odd-yssey"
Adventures in Ireland
Seanachie Nights, a monthly series of spoken word/musical performances from Celtic and British culture, presents Seanachie Nights Regular, fiddler, and raconteuse Janet Lynch with tales of travel in Ireland.
Think 21st century modernity has eclipsed the mystery and whimsy of the Island of Saints and Scholars? Think again! Let Janet Lynch, "Saint Murphy", and a gaggle of mischievous ancestors be your guides on an off-beat tour of Ireland, including but not limited to trespass of abandoned houses and churchyards, miraculously dubious cures, eccentric itinerants, unusual beasts, accidental incarceration, and calls to emergency services.
Janet Lynch's chequered and paripatetic career has included stints throughout Europe, most particularly Ireland, where she enjoys reprising her annual role of musical spáilpín fánach (itinerant tramp). Coming from a long line of raconteurs and mimics, she proudly continues this tradition as a regular collaborator with the Seanachie Nights storytelling series. As an actress, she's performed as Molly Bloom, a role she created for her show Love's Old Sweet Song, adapted from James Joyce's Ulysses. In 2016, Janet performed her adaptation of Chaucer's "The Miller's Tale" at MOOSE. She's done some stand-up comedy and plays a mean Irish fiddle.
Seanachie Nights is the creation of local (seanachie) storyteller, artist and playwright Lynne Cullen.