Seanachie Nights-Scotland: Land of Enchantment
Date: October 21, 2019
Location: Bull Feeney's Pub, Portland
---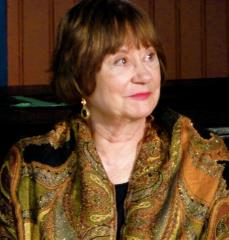 Seanachie Nights, a monthly series of spoken word/musical performances from Celtic and British culture, presents actor/storyteller Libby Franck, with tales from "Scotland - Land of Deep Enchantment". Tales of Fools, Heroes, and the Otherworld.
Libby has made 3 trips to Scotland and is forever under its spell. Share the magic of Tales of Heroes, Selkies, Changelings, Jack tales, jokes and poems from people she met and enlivened with a wee dram from a Bottle of the Best.

She was introduced to the work of Scots Traveller Duncan Williamson by her dear departed friend David Ingle. As a fan of the work of Librarian/folkorist Sorche Nic Leodhas, she will take you from the Highlands to the Lowlands, from cities to misty isles.

Libby Franck inherited her storytelling and love of history from her mother.

Her programs feature folk tales and legends of strong women. The Framingham History Center commissions her to portray local ladies including a suffragist, a prison superintendent and Julia Ward Howe. Her CD "Women of the Sea" contains two swashbuckling 18th century tales. She performs at arts centers, libraries, schools, museums, Civil War Encampments, the State House and MCI Framingham. At Burns Suppers, her favorite recitation is Tam o'Shanter. For more info, visit www.libbyfranck.com.