Talisk
Date: October 4, 2019
Time: 08:00 PM - 10:00 PM
Location: 1932 Criterion Theatre, Bar Harbor
---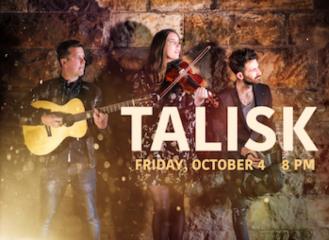 Barely four years since their formation, Talisk have already stacked up several major awards for their pyrotechnic yet artfully woven sound.
Mohsen Amini (the BBC Radio 2 Folk Awards' Musician of the Year 2018), Hayley Keenan and Graeme Armstrong meld concertina, fiddle and guitar seamlessly together, to produce a unique force that has taken them to many corners of Europe, throughout the UK on headline tours, to the USA, Canada and Australia. The trio's unique sonic signature has captivated audiences at world- leading festivals, including the Cambridge Folk Festival, Denmark's Tønder, Celtic Colours in Cape Breton, Fairport's Cropredy Convention, Celtic Connections and Brittany's Festival Interceltique de Lorient.
Whilst their touring history may far bely their years, so to does their unfailing energy and stage presence. With a second album in the pipeline, alongside heavy touring throughout 2018 and beyond, theirs remains a star firmly and rapidly on the ascent.
Filter Events
Venue
1932 Criterion Theatre
35 Cottage St
Bar Harbor
ME
04609
Sarah Jackson
207-288-0829
gro.ertaehtnoiretirc@haras