Teaching Artist Professional Development Workshop
Date: June 17, 2019
Time: 08:45 AM - 03:00 PM
Location: Viles Mansion, Augusta
---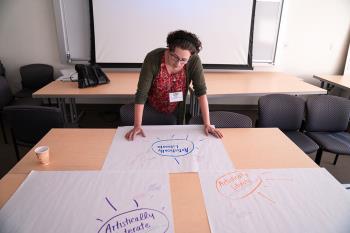 The Maine Arts Commission invites Teaching Artists -- or artists interested in improving their teaching skills -- to a one-day professional development opportunity.
DATE: Monday, June 17, 2019, 8:45 a.m. – 3:00 p.m.
LOCATION: Viles Mansion/Governor Samuel Cony House, 71 Stone Street, Augusta.
COST: $25.00. Registration is required. Workshop limited to 20.
PURPOSE
The workshop is focused on the role and benefits of a teaching artist. We will address how to structure and market a teaching residency as well as tips for communicating and collaborating with teachers, administrators, and community arts representatives.
The workshop will cover resources and techniques on applying your art expertise to create amazing learning experiences. These will include communication tips, connecting standards and assessments in your lessons, promotional information, funding opportunities, messaging and much more.
OUTCOMES
Information on ways to apply your expertise as an artist to the structuring of your lessons and residencies.

Hands-on experience in relating the learning standards and assessments to your work.

Participation in sessions that are planned to fit your specific needs as a teaching artist.

Promoting yourself and your work as a teaching artist.
WORKSHOP INCLUDES
• Information on getting started or improving your game as a teaching artist.
• Hands-on experience with and presentations by seasoned teaching artists.
• The value of collaborating with a visual and/or performing arts education.
• Communication and funding.
• Opportunity to network with other Maine teaching artists.
• Coffee/tea on arrival and a locally-sourced delicious lunch.
PRESENTERS
Argy Nestor, Art Education Director, Maine Arts Commission, with 30 years of classroom experience
Kate Smith, elementary level music teacher in South Berwick, and 2018 Maine Teacher of the Year
Tom Luther, a pianist, composer, and multi-media artist working in sound, music, and video from midcoast Maine
Lindsey Pinchbeck, founder and teacher at SweetTree Arts and Sweetland School in Hope, Maine based on the Reggio Emilia approach
To apply for the Maine Arts Commission Teaching Artist Roster artists are required to attend this workshop on June 17. The Commission will be accepting Teaching Artist roster applications in the fall of 2019. CLICK HERE for the MAC Teaching Artist roster.
Filter Events
Venue
Viles Mansion
71 Stone Street
Augusta
ME
04333
Organization
Maine Arts Commission
Martha Piscuskas
vog.eniam@saksucsiP.ahtraM