Thanks in Variations
Date: April 17, 2021 - May 2, 2021 (Saturday)
Time: 03:00 PM - 06:00 PM
Location: Thompson's Point South Garden, Portland
---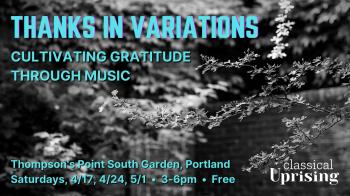 Thanks in Variations is an in-person sound installation at Thompson's Point South Garden in Portland. This richly textured, interactive musical piece is based on a 15th-century canon but re-envisioned to promote mental health, cultivate gratitude, and provide a live, safe, immersive artistic experience for our community to engage, reflect, and process the chaotic experiences of the past year.
Thanks in Variations is based on Johannes Ockeghem's 15th-century work "Deo gratias" (Give Thanks) but updated for a modern experience by engaging Mindfulness Meditation and contrasting natural versus created sound, individual versus communal voices, and order versus disorder. Featuring Maine professional and amateur singers, including nurses, teachers, and clergy, the installation consists of thirty-two separately recorded voices played back through fourteen speakers strategically placed throughout the garden. The audience walks a marked path that engages the varying acoustical spaces so they experience the breath, the human body, and ensemble music in a new way.
SCHEDULE
Entrance is offered free of charge but capacity will be monitored and all visitors must wear masks, practice social distancing, and fill out a contact-tracing form upon arrival.
This event is sponsored by Baker Newman Noyes and made possible by Classical Uprising's donors, grantors, and season sponsors.