Tim Bavington: Rock & Roll Abstraction
Date: July 13, 2018 - October 19, 2018 (Sunday, Friday, Saturday)
Time: 11:00 AM - 05:00 PM
Location: Maine College of Art, Portland
---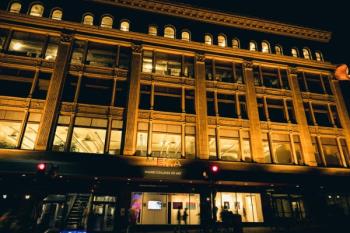 Bob Crewe Gallery at Maine College of Art (MECA) exhibits "Tim Bavington: Rock & Roll Abstraction" July 13 - Oct. 19
Abstract painter translates Rolling Stones, Beatles, Cream, and Jimi Hendrix songs into visual experiences
Dedicated to using music and art as a gateway to learning, the Bob Crewe Gallery at Maine College of Art (MECA) is exhibiting "Tim Bavington: Rock & Roll Abstraction" July 13 through October 19. The pieces are on loan from the artist and Morgan Lehman Gallery in New York.
British-born, Las Vegas-based Bavington uses a unique system of pairing musical notes with specific hues of color to represent some of his favorite rock and roll songs of the sixties and seventies. Music by the Rolling Stones, Cream, the Beatles, and Jimi Hendrix form the foundation of his work. Among the songs depicted in the exhibition are "Hey Joe" by Jimi Hendrix, "Kansas City" by the Beatles, "A Kind of Magic" by Queen, "Secret Agent" by Chick Corea, "(back to) Black (addicted)" by Amy Winehouse, and "Let My Love Open The Door" by Pete Townsend.
"Tim Bavington's work offers an innovative way to deconstruct music into color and form," said guest curator Jaime DeSimone. "He uses bright, vividly colored stripes to represent the musical notes in the base lines, rhythms, and string solos of each song." DeSimone previously organized Synthesize: Art + Music for the Museum of Contemporary Art Jacksonville.
"Bridging the disciplines of both art and music, Tim Bavington's intimate drawings alongside large-scale abstract paintings help to cultivate creativity, critical thinking, and self-expression, all goals of the Bob Crewe Gallery," said Erin Hutton, Director of Exhibitions and Special Projects, MECA.
Free and open to the public, the exhibit runs July 13 through October 19, Friday through Sunday, 11 a.m. to 5 p.m.; First Friday of the month until 8:00 p.m. The Bob Crewe Gallery is on the lower level of the Porteous Building, Maine College of Art, 522 Congress Street, Portland, Maine. A free public talk by the artist will be held in the Gallery on Thursday, October 18 at 5 p.m.
About the Bob Crewe Gallery at Maine College of Art
Named after the legendary record producer, songwriter and artist Bob Crewe (1930-2014), the Bob Crewe Gallery at Maine College of Art presents the work of Bob Crewe and explores the connections between music and visual arts by contemporary local, national and international artists.
Filter Events
Venue
Maine College of Art
522 Congress St.
Portland
ME
04101
Organization
Maine College of Art
Ern Hutton
207-775-3052
ude.acem@ofni
http://www.meca.edu