Untethered Together: two-person art exhibit
Date: May 15, 2019
Time: 10:00 AM - 04:00 PM
Location: River Arts , 241 US Rt 1
---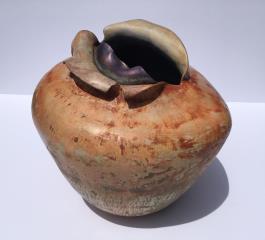 "Untethered Together" is an exhibit of paintings by Robert Gibson and ceramics by Catherine Gibson in the West Gallery at River Arts, 241 US Rt 1. Included are large lush abstract compositions by Robert Gibson and fine hand-built low-fire ceramic pieces by Catherine Gibson. The exhibit will be on display from May 2nd until May 15th. Gallery hours are Tuesday - Saturday 10am to 4pm and Sunday, May 5th 11am to 3pm. This is the first two-person art show in which the Gibson's will be exhibiting together.
Robert Gibson is a graduate of the Philadelphia College of Art and has exhibited in numerous one person and group shows throughout Maine and New England and is most widely known for his intensely hued paintings. Gibson says of his painting "My work is intuitive, sometimes I am inspired by a dream, feeling, a concept or an element from one of my other paintings that I want to explore further. Sometimes I just start. The painting takes on a life of its own, I try not to get in the way

Catherine Gibson studied Ceramics at the Manchester Institute of Arts and Sciences and the University of New Hampshire. Her background includes many years working in information technology. She believes that her analytical background, as with all life experience, informs her artwork. Her work has been exhibited around the mid-coast and in the Lewiston/Auburn area. Catherine says of her work "My internal narrative and dialogue with the clay develops as I build each piece. I focus on the outlines, shape, volume, the play of light and shadow on the form, and the balance between. A recurring theme in my work is the vessel as a metaphor for the feminine."

Works by both Catherine and Robert were most recently shown at the UMVA Gallery in the Exhibit "Shadows and Light" in Portland Maine, as well as the recent exhibits at River Arts.

Robert and Catherine Gibson's work may also be viewed in their studio's at 1746 Harpswell Islands Road on Orr's Island by chance or appointment and on their websites www.robertgibsonart.com and www.gibsonceramics.com.
Filter Events
Venue
River Arts
1746 Harpswell Islands Rd
241 US Rt 1
ME
Catherine Gibson
207-333-2411
moc.liamg@bigtac