Wicked Wednesday - The Anatomy of a Gravestone
Date: July 11, 2018
Time: 06:30 PM - 08:30 PM
Location: All Souls Chapel, Poland
---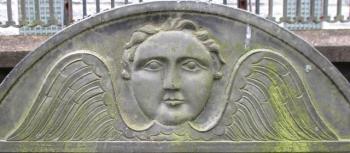 POLAND SPRINGS PRESERVATION SOCIETY PRESENTS
WICKED WEDNESDAYS!
This week's Wicked Wednesday program presents "The Anatomy of a Gravestone " presented by Ron Romano!
Southern Maine's early cemeteries are rich with folk art. Beautifully hand-carved gravestones created by local stonecutters are readily found throughout our region. But what do the gravestone symbols — urns & willows, skulls & crossed bones, and pointing fingers — really mean? In this heavily-illustrated presentation, cemetery historian and author Ron Romano will describe the anatomy of a gravestone, discuss the types of materials found in our burial grounds and explain the meanings of dozens of gravestone icons.
This presentation will be held on July 11th @ in the All Souls Chapel at Poland Spring Resort.
Suggested donation is $5 and will benefit the Poland Spring Preservation Society. Water and cookies will be provided.
The Poland Spring Preservation Society is a 501c3 nonprofit organization that preserves, protects and manages The Poland Spring Museums along with extensive collections of art, artifacts and memorabilia The Museums include the All Souls Chapel, and the Maine State Building, which houses the Maine Golf Hall of Fame. Also located on the property is the Original Poland Spring Bottling Plant and Source. These buildings are owned by Nestle Waters North America and managed by the Preservation Society.
The Society's mission is to preserve the historic buildings and educate the public about Poland's Spring's unique place in history. The Museums are open to the public May through October. For more information go http://www.polandspringmuseums.org, call (207) 998-4142 or email contact@polandspringmuseums.org
GPS Location is 37 Preservation Way, Poland, ME 04274
Filter Events
Venue
All Souls Chapel
37 Preservation Way
Poland
ME
04274
Organization
Poland Spring Preservation Society
Julia Thibodeau
2079984142
moc.liamg@noitavreserpgnirpsdnalop