Wood Carving Displays and Demonstrations
Date: December 14, 2019
Time: 10:00 AM - 04:00 PM
Location: Maine State Museum, Augusta
---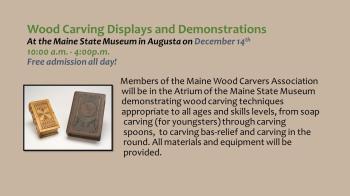 Wood Carving Displays and Demonstrations
At the Maine State Museum in Augusta on December 14th 10:00 a.m. - 4:00p.m.
On December 14, 2019, members of the Maine Wood Carvers Association will be in the Atrium of the Maine State Museum from 10 a.m. to 4 p.m. Participating members will be displaying examples of their finished work, as well as demonstrating wood carving techniques of interest to all ages, from carving spoons, to carving bas-relief, and carving in the round. Come see this amazing demonstration of skill and artistry! Children can try their hands at soap carving, all materials and equipment will be provided. Free Admission to event and the Maine State Museum all Day!
When: Saturday, December 14, 2019 10:00 a.m. – 4:00 p.m.
Where: Maine State Museum, 230 State Street, Augusta, Maine
What: Wood Carving Display and Demonstrations by members of the Maine Wood Carvers Association
The Maine State Museum is open Tuesday through Friday 9am-5pm, Saturday 10am-4pm, closed Sunday and Monday. Admission is $3 for adults; $2 for senior adults over age 62 and children 6-18 years of age; children under 6 free. Maximum charge for families is $10. For more information please call 207-287-2301, or visit the Maine State Museum website: www.mainestatemuseum.org
Filter Events
Venue
Maine State Museum
230 State Street
Augusta
ME
04330
Joanna Torow
207 -287-6608
vog.eniam@woroT.annaoJ