"Conservation Matters" at the 41st Annual Mount Desert Island Directions Fine Craft Show, July 29-31
---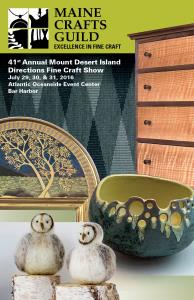 "Conservation Matters" at the 41st Annual Mount Desert Island Directions Fine Craft Show, July 29-31, 2016 - Atlantic Oceanside Event Center in Bar Harbor, Maine.
In celebration of the Acadia National Park Centennial, the Maine Crafts Guild is coordinating an event titled, "Conservation Matters." Guild members have been challenged to design and produce works featuring natural/conservation themes. Artwork may range from production to one-of-a-kind pieces and will be available for purchase during the fine craft show. A percentage of sales will benefit Friends of Acadia.
A special gathering is planned for the evening of Friday, July 29, 2016 - the opening night of the show. Refreshments will be served, along with a cash wine bar and live music from 5-8pm.
The Maine Crafts Guild celebrates its own historical roots on Mount Desert Island, digging deep to unearth the sources of inspiration that motivate the making of crafts which transcend the ordinary. In recognition that Acadia's natural resources have provided subject matter for closer study and a spacious landscape in which to reconnect, members of the Maine Crafts Guild honor the matter of conserving this precious Maine resource.
Attendees of the 41st Annual Maine Crafts Guild Directions Fine Craft Show on Mount Desert Island (July 29th, 30th and 31st, 2016) will have the opportunity to meet the makers of these Acadia-inspired pieces, while experiencing myriad media, artful displays and excellence in craft customary at all Maine Crafts Guild shows. $5 adults; under 18 free. The Maine Crafts Guild is an Acadia Centennial Partner.
Summary:
Maine Crafts Guild 41st Annual MDI Directions Fine Craft Show
Atlantic Oceanside Event Center (new location)
119 Eden Street
Bar Harbor, Maine
Friday July 29th from 5-8pm ( Live music and refreshments!)
Saturday July 30th from 10am-5pm
Sunday July 31st from 10am-4pm
Admission $5 adults; under 18 free