2nd Annual Bucksport Arts Festival Returning to Waterfront
---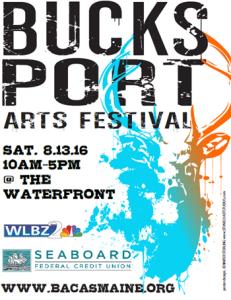 Bucksport, Maine, USA – The 2 Annual Bucksport Arts Festival will return to Bucksport's waterfront walkway on Saturday, August 13th. The scenic location overlooking Penobscot Bay features stunning views of Fort Knox and the Penobscot Narrows Bridge, and was also home to the Festival's wildly successful first year in 2015. The juried festival will return in less than two weeks with nearly 40 fine artists and craftspeople who will feature paintings, photography, glass work, jewelry, woodworking, paper binding, pottery, and more.
Over half of this year's artists are returning from 2015, and several new additions have helped the Festival grow in number and in the types of art and craft that will be offered. Returning artists include: Carolyn and Clyde Folsom, Charlie Widdis Photography, Argyle Iron Works, Penobscot Pyrographics, Kerwin Whitney Photography, Sojourn Curiosities, Left Field Graphics, Bruce Duncan Collins, Sauciers Studio, Sandy Dolan, Sewing a Notion, Patchwork Clay, Linda Stearns, Kay Carter, Black Dog Ironworks, Martin Gallant, Teddi-Jann Covell, Reclaimed Maine, Buzy Bz Studio, The Moons Cache, and Mary Banfield. New artists include: Felicia Grace Designs, Ryan Kohler, Anne Spencer, Adam and Jessie Perkins, Purple Bean Bindery, Susan L. Hutton Jewelry, Madelyn Hart Pottery, Rod's Burl Bowls, Michele Billings, Diane Parsons, Glass Orchids, Judith Bither, TB Pots Pottery, and Daniel's Handwrought Tables.
In addition to fine art and craft, visitors to the Festival can also enjoy delicious local food options provided by The Good Kettle. Live music by The Fifth Fret will also be free for all to enjoy near the Bucksport Marina at 11:00 am and 1:30pm.
The 2016 Bucksport Arts Festival is made possible by Seaboard Federal Credit Union with additional support by WLBZ 2. Seaboard FCU is a member-owned cooperative, whose mission is to provide quality financial services to all members at fair and reasonable rates and terms.
All proceeds of the Festival benefit The Bucksport Area Cultural Arts Society (BACAS), whose mission is to support and promote the cultural and performing arts in Bucksport and surrounding communities. BACAS hosts a number of concerts and performances throughout the year; for a schedule of events or to learn how to support BACAS, visit www.bacasmaine.org.
Questions? Contact Festival Coordinators Lyndsey Marston at 3leggeddogink@gmail.com or Laurie Brooks at lauriebrooksart@gmail.com