Americans for the Arts What's New on ArtsU - July (Part II)
---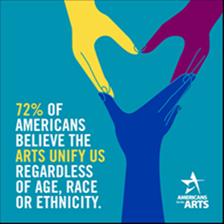 Supporting Individual Artists Coffee Chat: Finding Artists
July 23rd at 3:00 PM EDT
The Arts Administrators Essentials: Supporting Individual Artists monthly "Coffee Chats" are your opportunity to hear from individuals and organizations in the arts and culture field that support individual artists as part of their everyday work. Our topic for July 2020 will be about finding artists. Join Sandy Bellamy from the Washington DC Percent for Art program as she discusses methods to broaden inclusivity in the field of public art. A particular focus will be on how to manage the commissioning process with a small staff and limited resources.
DIAL.studio Professional Development Series
DIAL.studio is a new, six-part FREE professional development series for pre/early career arts leaders who are underrepresented in the arts field and looking to learn about arts administration through a cultural equity lens. Here are some of the events coming up in the series:
Supporting Individual Artists: Artist Residencies
July 29th at 3:00 PM EDT
Explore the world of artist-in-residence communities and ways in which they support individual artists. In this session we will explore: The benefits of residencies for individual artists as shown through artist experiences including, how residencies add credibility to your professional practice, processes for building criteria for selecting artist-in-residence participants, and the impact of making treasured friendships and building lifelong networks through residencies.
Filter Press Releases
Contact Information
Marissa Shadburn
1000 Vermont Ave NW 6th Floor
Washington
DC
20005
202.371.2830
gro.asustra@nrubdahsm