Art in the Capitol presents fine art of Judy Taylor and Olena Babek
---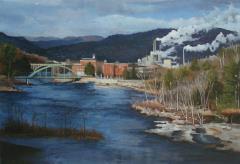 AUGUSTA, MAINE- The Maine Arts Commission is pleased to present the work of Judy Taylor and Olena Babak, two of Maine's most talented painters, now on display at the Maine State Capitol Complex. The exhibit features 21 original oil paintings that are included as part of the ongoing Art in the Capitol program, a free exhibit open to the public from 8 a.m.- 5 p.m. Monday through Friday.
After meeting at a plein air class several years ago, Taylor and Babak have continued to inspire each other, while combining their talents on several projects.
Taylor began her artistic career with an intensive education in New York and Chicago. She relocated to Maine in 1996 for an artist residency at Acadia National Park. Classically trained in figurative and narrative painting, Taylor's work often features subjects set amongst the traditional backdrops of Maine.
"I like to incorporate the figure and the environment to kind of tell a story— a narrative," Taylor said. "Even if there is not a figure in it, I'm hoping that it tells a story...The power of the art and the narrative can restore and renew the spirit."
One of her pieces that is currently on display is entitled "Pink Compact," which is inspired by a series of diner stops that Taylor visited on a trip through Maine. Another piece, "Rumford, Maine" details the industrial features of a mill town tucked cozily in the western foothills.
Taylor currently teaches from her studio in Seal Cove, Maine while also conducting workshops in Austin, New York, Italy and France. Her work is part of many public and private collections including: Johns Hopkins University, the United States Park System, Friends of Acadia, and the Jackson Laboratory.
Babak is an award winning, classically trained artist, whose landscapes and figurative works can be found in numerous galleries and collections in the U.S. and abroad. Babak's most recent awards include: Best Representation of Rockies National Park, Artist's Choice Plein Air Richmond, and 1st Place Quick Draw & People's Choice Award of Finger Lakes Plein Air. She was also a recipient of the Hudson River Fellowship in New York. A former teacher at the Academy of Classical Design in North Carolina, Babak now offers private workshops and classes in her studio on Great Moose Lake in Hartland, Maine.
When describing her work, Babak says, "I strive to push the limits of lighting and color in the process of capturing mood and enchantment in ever changing light and surroundings."
The current Art in the Capitol display can be viewed as a self-guided exhibition on both the ground floor and second floor of the Maine State House. The show runs from March 13 to June 9, 2017. Individual works can also be purchased from the artists themselves by visiting their individual websites: www.olenababak.com and www.judytaylorstudio.com
The Art in the Capitol program is administered by the Maine Arts Commission and is designed to expand accessibility for Maine artists working in-state on Maine-based themes. To learn more about the program visit: www.MaineArts.com/artinthecapitol or contact Julie Horn, Visual Arts Director at julie.horn@maine.gov
Filter Press Releases
Contact Information
Ryan Leighton
193 State Street
SHS 25
Augusta
ME
04333
207/287-2726
vog.eniam@nothgiel.j.nayr