ArtWalk Gardiner Celebrates Art and Community in Historic Downtown Gardiner
---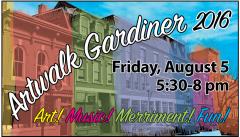 Gardiner, ME - On Friday, August 5 from 5:30-8:00pm, ArtWalk Gardiner will showcase original fine art and hand-crafted items created by dozens of area artists. Hundreds of unique works of art ranging from paintings, drawings, fine art prints and photography to textiles, sculpture, jewelry and ceramics will be available for sale in artists' studios, galleries, shops, and other venues throughout Gardiner's beautiful historic downtown. Individuals and groups of artists including the Artdogs, Circling the Square Fine Art Press, SpinOff Studio, and the Boys and Girls Club of Greater Gardiner will share their creations.
In addition to the huge variety of artwork for sale, ArtWalk Gardiner also includes artists' demonstrations, children's activities, free refreshments, and live music. SpinOff Studio is sponsoring an all-ages dance party with DJ Haunt in their garden space, and local artists Matt Demers and Allison McKeen will host an after-party for participating artists and their guests at their Water Street studio loft later in the evening.
First launched in 2005 by Artdogs™ studios and a handful of other area artists, the mission of ArtWalk Gardiner is to increase community awareness and appreciation of the visual arts, to encourage interaction with local artists and the public, and to nurture a supportive network that also enhances the local economy. Since its inception, ArtWalk Gardiner has drawn hundreds of appreciative visitors to Water Street to enjoy these festive evenings of art and good cheer.
ArtWalk Gardiner is sponsored and supported by many local businesses, including those that will be hosting artists for the evening. We hope you will join us for this lively celebration of art in our community. For more information, please email artwalkgardiner@gmail.com or find us on Facebook.