Austin William Stilphen Exhibits at Richard Boyd Art Gallery
---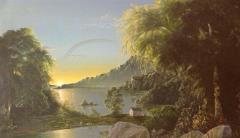 (Portland, ME) Richard Boyd Art Gallery welcomes 20 year old artist Austin Stilphen to the group of artists represented by the gallery. Stilphen's paintings depict his interpretation of rural landscapes untouched by modernization. He has the same vision as many landscape artists before him, to reawaken our love of nature. Inspired by 19th century Hudson River School artists, Austin strives to emulate not copy those painters that came before him and shares the same desire to preserve areas of natural beauty.
Austin says, "I take trips throughout rural Maine to see and document Maine's beautiful landscapes. My process includes going on hiking trips up in the mountains and making sketches of the surrounding lands. My work tries to teach people or at least provide some insight as to what nature actually is. I usually sketch outdoors using whatever writing utensil I have at hand. If I see an effect, I take note of it. If I see a specific plant species in an area I draw it, not just once or twice, but many times over to capture every detail. My sketch book is full of drawings, which I use as a reference for my paintings.
I create these paintings in hopes that people will understand and appreciate what we have on this planet. When we wake up tomorrow it could all just vanish, it is a precious gift and we should make it our duty to preserve and protect what little we have left of it."
In this day and age, we need young artists like Austin Stilphen to spark our love of nature and help us embrace natural landscapes untouched by modern development. Austin's paintings are included in the annual 'Serenity' exhibit at Richard Boyd Art Gallery opening November 4, 2016. For additional information about the exhibit please contact the gallery by phone at 207-712-1097 via email at info@richardboydartgallery.com or visit http://www.richardboydartgallery.com . Like the gallery on Facebook at http://www.facebook.com/RichardBoydArtGallery .
Copyright©2016 Richard Boyd Art Gallery All Rights Reserved.